Podcast: Play in new window | Download (Duration: 54:17 — 74.5MB) | Embed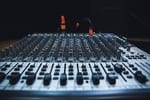 It's important to take care of your podcast gear, regardless of the original cost. Podcasters should take the time to clean, properly store and travel with their podcasting gear such as microphones, headphones, mixers, recorders, etc.
News
Best Practice
Studio Hygiene, how to take care of your gear.
Keep it clean (dust free is best!)




If you have to set it up to do your show every time, find a good place to store your gear. A protective case, dedicated drawer or shelf, a towel or cloth cover never hurt.




Cables are fragile. Don't roll them too many times.




If it's in a set location, limit access to that location. Keep pets, kids, significant others and coworkers away from it if at all possible.




You can also tape down cables so they don't move around or get caught by someone.




Double check your settings on everything before you record.

Never assume that it will always hold settings and that it will always work the same way. Do a 10 second record test before you start your show to make sure you're getting a good capture.




Power down anything you can while not in use.



Blubrry News
Blubrry Pro Tips
What to do next? Giving your listeners specific actions to take after listening to your podcast, most importantly sending them to your website.
Interview: Meet the Team
Jeff Levine, Marketing Manager 
Question(s) of the Week 
Question: David asks, "There was a typo in the post title of my latest episode. I just fixed it on WordPress. How long does a change like that typically take to filter out to the podcast apps?"
Answer: It depends on the app. As with everything RSS based, it will refresh on the app or directory the next time that app or directory (or your listener) pulls the feed. Sometimes things like that can take longer than a new episode. If it doesn't change in a reasonable time (day or so), It will the next time you publish an episode.
This goes for any publishing platform, not just WordPress / PowerPress.
______________
Got a question you'd like us to answer on the show? Drop an email to mike@blubrry.com (audio, text, video) and we may use it.
Be sure to follow or subscribe to the companion show to this one, Podcast Help Desk where Mike goes a little deeper into the geeky and techy side of podcasting.
https://www.podcasthelpdesk.com
______________
The best place for support with any Blubrry products/services is our ticket system (https://blubrry.com/support/). Tickets give the whole team access rather than direct emails or calls.
______________
Promo code INSIDER for a free month at Blubrry.com
Coming at you this week from Blubrry Studios in northern and southern Michigan. Produced by the Blubrry Pro-Production team.
Schedule a one-on-one with Todd (hosting customers only). Email todd@blubrry.com

Schedule a tech checkup with Mike (hosting customers only). Email mike@blubrry.com


Send us your podcast sticker and a self-addressed stamped envelope (SASE) and we will send you a Blubrry care package.
Our mailing address is:
Blubrry – MacKenzie
150 E. Campus View Blvd. #180
Columbus, Ohio 43235