Podcast: Play in new window | Download (Duration: 22:55 — 31.5MB) | Embed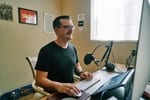 How would you define yourself as a podcast host? Are you an indie podcaster? Or are you doing this for your career or leapt into what some might consider a professional podcaster? It's up to you as the host or creator to put such label on yourself if you want, but here at Blubrry, we know that most podcasters are labeled independent and would claim as such.
Don't let our discussion on indie vs. professional stop you from learning about the industry as a whole, for example, IAB recently stated that they think podcast advertising revenue will reach 2 billion by 2023. When you hear of Dax Shepherd's podcast going exclusive soon and that Wondery+ is also going to do podcast subscriptions as well, it's not hard to believe.
Thanks for joining us on this episode of Podcast Insider. Looking to be a guest on the show? Let us know.
Recorded live from two well-separated and socially distanced podcast studios in northern and southern Michigan; here's Podcast Insider.
News:
Topic of discussion:
Are you an indie podcaster?
As podcasters, most of us start off doing everything for our shows.  Show prep, hosting/talent, recording, editing, publishing, ad sales, program manager and chief bottle washer. This way of doing things gives you control; for your brand, your editorial (you can say what you want) and any revenue your show brings in.
Some of us farm out parts of the above roles. Like having help for show prep or having an editor, but for the most part, it's still independent.
Blubrry News:
PowerPress 8.6.2 has been released.

If you want to write for Podcast Insider blog, like David does, contact marketing@blubrry.com

Question(s) of the Week:
Question: I started a podcast two weeks ago in audio format and film it for YouTube. Then we edit the video part and add in photos and some special effects. It's so much work to do it this way. Would have been way easier to just do the audio format. For those of you with experience, am I wasting my time filming and editing and putting it on YouTube?
Answer: No, it's not a total waste of time, but editing the video may be overkill. For this show, we stream live on all the platforms so when we are done, we have a YouTube video already there and a Facebook video, however we do not edit the video. We record the audio separately which we have professionally edited by the Blubrry Pro Production team.
______________
This week Mike will be sharing his finding on his show notes experiment. As in how show notes display in each directory or app. I have a part two of this experiment running on a different podcast and I will be able to get a bit deeper later on.
https://www.podcasthelpdesk.com
______________
If you have a question you would like us to answer on the show, drop an email to mike@blubrry.com  (Audio or text or even video if you want) and we may use it on the show.
The best place for support with any Blubrry products/services is our ticket system (https://blubrry.com/support/). Sending a ticket gives the whole team access to the question rather than direct emails or direct phone calls.
______________
Be sure to subscribe to the unofficial companion show to this one, Podcast Help Desk where Mike goes a little deeper into the geeky and techy side of podcasting.
This week, going to start an experiment to find out how show notes are shown on all different apps and directories. Mike would love to hear what you see in your app for this upcoming episode, and a surprise announcement!
https://www.podcasthelpdesk.com
______________
Promo code INSIDER for a free month at Blubrry.com
Coming at you this week from Blubrry Studios in northern and southern Michigan. Produced by the Blubrry Pro-Production team.
Schedule a one-on-one with Todd (hosting customers only). Email 

todd@blubrry.com

Schedule a tech checkup with Mike (hosting customers only). Email 

mike@blubrry.com

Send us your podcast sticker and a self-address stamped envelope (SASE) and we will send you a Blubrry care package.
Our mailing address is:
Blubrry – MacKenzie
150 E. Campus View Blvd. #180
Columbus, Ohio 43235