Podcast: Play in new window | Download (Duration: 26:53 — 36.9MB) | Embed
Special Announcement: Samsung Podcasts — Blubrry is a launch partner.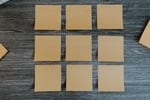 Organizing your podcast production helps to make sure your audience is getting consistent episodes and makes it easier for you, the podcaster. Earlier this week in a blog post we shared some ways to make pre and post production simple, and Todd and Mike review some of those tactics in today's episode.
Thanks for joining us on this episode of Podcast Insider. Looking to be a guest on the show? Let us know.
Recorded live from two well-separated and socially distanced podcast studios in northern and southern Michigan; here's Podcast Insider.
News:
Best Practice:
Organizing your production: How Podcast Insider does show-prep, records and publishes.
Perfect your process: Prep, record, post-production, publish your episode

Checklists are good (see blog article below)

Double check your equipment and settings


Don't forget to hit RECORD 🙂
Blubrry News:
Question(s) of the Week: 
Question: I bought a Blue Yeti microphone and I can't get it to sound good at all. What can I do to make it sound better?
Answer: The Blue Yeti is a condenser mic. Condenser mics require a quiet environment. So, if possible, record in a quiet place with lots of "soft" things around. A carpeted room with curtains over the windows, a closet perhaps. Also, you have to tweak the settings to help prevent extra sounds from getting into the mic.
First thing, Yeti is a side-address microphone, which means you should speak into the side of the microphone with the Blue logo facing you. Get up close and personsal, (2-6 inches) from the microphone.

Use a pop-filter in-between you and the mic.

Turn the gain (volume) of the microphone down lower than you think it should be.

Test the recording and turn the input to your source down until your levels are about ¾ of the way up (depending on what sort of meter you have in the software). Lower is better.

Once you have finished recording, run the file though a leveling program like Auphonic. This will boost the volume back up to standard if you record low (like you should with a Yeti).

Do some test recordings to get proper levels without too much background noise and remember where those settings are (or take a picture).

The Yeti would not be my first choice for a podcasting mic. A dynamic USB mic like the ATR2100X, Samson Q2U or the Shure MV7 would be a better choice if you can swing it.
Yeti's are not necessarily bad, but do take a bit more care and planning to get them to sound good at first.
______________
Be sure to subscribe to the companion show to this one, Podcast Help Desk where Mike goes a little deeper into the geeky and tech side of podcasting. 
This weekend, I will be explaining the podcast namespace tags and why you might want to start using them. 
https://www.podcasthelpdesk.com
______________
Promo code INSIDER for a free month at Blubrry.com
Coming at you this week from Blubrry Studios in northern and southern Michigan. Produced by the Blubrry Pro-Production team.
Schedule a one-on-one with Todd (hosting customers only). Email 

todd@blubrry.com

Schedule a tech checkup with Mike (hosting customers only). Email 

mike@blubrry.com

Send us your podcast sticker and a self-address stamped envelope (SASE) and we will send you a Blubrry care package.
Our mailing address is:
Blubrry – MacKenzie
150 E. Campus View Blvd. #180
Columbus, Ohio 43235