Podcast: Play in new window | Download (Duration: 22:38 — 31.1MB) | Embed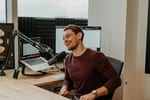 There are plenty of reasons why you should have a website for your podcast. Blubrry has the No. 1 podcast plugin for WordPress, so we're obviously big believers in having your own website, but this episode we go over some of the important reasons why you should have one. Many podcasters man the entire show, website, marketing, etc, and is often a thankless job.
Speaking of which, Todd has had his own site and been handling his show for a decade and a half and is celebrating 1,500 episodes this week 👏
Thanks for joining us on this episode of Podcast Insider. Looking to be a guest on the show? Let us know.
Recorded live from two well-separated and socially distanced podcast studios in northern and southern Michigan; here's Podcast Insider.
News:
Censorship and podcasting. It's fairly cut and dry.

The Daily gets taken off Houston Radio Station.

According to Edison Research, most podcast listening happens midday.

Congratulations Todd, for publishing his 1,500th Geek News Central podcast episode Thurs. Jan 14, 2021! From Podnews.net today:

"Todd Cochrane's Geek News Central ▸ will today release its 1,500th episode in a live recording from 7.30pm ET via Facebook. Todd is also CEO of Blubrry, and tells Podnews of the benefit of using your own product: "While I love doing my show for my family of listeners, I strongly believe the only way to stay abreast of what is happening, and the struggles podcasters face in building a show and keeping advertisers happy, is by being in the trenches creating content." Congratulations to him."
Best Practice:
Now more than ever, having a website for your show is important.
Having your own website gives you a place to be found outside of any podcasting app.

You have the power to design your site that looks better than a show listing page.

You can do more with it than just podcast (Like blogging, link to your own products, or whatever you want to do).

Provides better SEO in the search engines.

Helps you be found for your topic.

Looks more professional (of course that is up to you to make it look good!).

In the rare case you get removed from some other places, people know where to re-find you. (of course, tell them in the show).

Blubrry News:
Phase one of the new Dashboard at Blubrry is coming soon.

New voicemail option in the Podcast Insider sidebar. Leave us your feedback, ask a question for the show or just sound off! We love your participation.


PowerPress 8.4.8 released Jan. 13. Bug fix for account linking and other minor bugs. 




A lot of the Blubrry team are also podcasters. Shawn, Dave, Jeff, Barry, and of course Todd and Mike, all have their own podcasts.



Question(s) of the Week:
Question: I submitted my podcast to Amazon two weeks ago and haven't heard anything back from them. What gives?
Answer: Amazon does not provide any notices or feedback to podcasters (or hosting companies) when you submit to Amazon. Just give it a week or so and then search for your show. The first place to search is music.amazon.com (you have to log in using a free Amazon account).
On Saturday's Podcast Help Desk episode, "Can you play music in your podcast? And how to find pod-safe music?"
NEW! – If you have a question or feedback, click on the "Leave a voicemail" on the sidebar of  PodcastInsider.com. Record your question and we may answer it on the show.
______________
Promo code INSIDER for a free month at Blubrry.com
Coming at you this week from Blubrry Studios in northern and southern Michigan. Produced by the Blubrry Pro-Production team.
Schedule a one-on-one with Todd (hosting customers only). Email 

todd@blubrry.com

Schedule a tech checkup with Mike (hosting customers only). Email 

mike@blubrry.com

Send us your podcast sticker and a self-address stamped envelope (SASE) and we will send you a Blubrry care package.
Our mailing address is:
Blubrry – MacKenzie
150 E. Campus View Blvd. #180
Columbus, Ohio 43235