Podcast: Play in new window | Download (Duration: 39:24 — 54.1MB) | Embed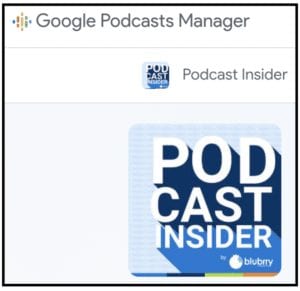 Google Podcasts, which has gained prominent use with Android podcast listeners has finally released a host dashboard. Todd was able to interview a Google team member earlier this week to get inside information. Hosts are able to log into the new site and begin reviewing their stats data, such as listener retention.
Jetpack released a new update to its plugin, featuring a podcast playlist and podcasting has finally entered the Pulitzer Award list, a first for the audio reporting category. Todd and MacKenzie also talk about a new deal with Fox News and Spotify, as well as 20 additional countries that now feature Apple Podcasts.
The Blubrry team is working hard on our PowerPress plugin, with a bug fix release soon and a new full version beta release later this month for 8.3 with a significant dashboard upgrade.
Thanks for joining us this episode of Podcast Insider. Looking to be a guest on the show? Let us know.
Recorded live from two well-separated and socially distant podcast studios in southern Michigan and central Ohio, here's a Podcast Insider show LIVE.
This week on Podcast Insider…
News:
Best Practice:
Consistency:

Releasing episodes on a regular basis is important for your audience. People build your show into their lives, and even now when the majority of people are working from home, they've adjusted into a new routine. If you'd like to take a break, send out a quick social media message about said break. You can even release a quick episode to let them know, or post a rerun.
Blubrry News:
PowerPress 8.2.11 is out – this should be our last update.

PowerPress 8.2 should be available in beta in about a week or two. This includes a major UI overhaul. If you'd like to beta test, email

support@blubrry.com

Todd will be speaking at Outlier next week, a now virtual event. We're thrilled to be sponsors and speaking. Check out the schedule here.
Support:
Google Podcasts Manger – this new admin for podcasters gives them an inside look into their Google Podcasts statistics. Todd was able to demonstrate some of the functionalities. Podcasters, go ahead and get started to take a look at the information for your show.

PodcastsManager.Google.com.
Promo code INSIDER for a free month at Blubrry.com
Coming at you this week from two very separate podcast studios in Michigan. Produced by the Blubrry Pro-Production team.
Schedule a one-on-one with Todd (hosting customers only) Email todd@blubrry.com
Schedule a tech checkup with Mike (hosting customers only) Email mike@blubrry.com
Send us your podcast sticker and a self-address stamped envelope (SASE) and we will send you a Blubrry care package.
Our mailing address is:
Blubrry – MacKenzie
150 E. Campus View Blvd. #180
Columbus, Ohio 43235