Podcast: Play in new window | Download (Duration: 43:55 — 60.3MB) | Embed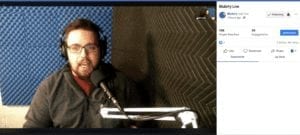 We hope you're enjoying the live recordings of Podcast Insider on Facebook recently. We're keeping this up until the world calms down a bit. Without a Blubrry podcaster guest this week, we had Dave Clements from the support team join Todd and Mike to discuss how he got started, what he does for the team and more. Before we dive in with Dave, they discuss a few company releases and partnerships, events and tools to stay organized.
Thanks for joining us this episode of Podcast Insider. Looking to be a guest on the show? Let us know.
Recorded live from three well-separated and socially distant podcast studios in Michigan and Indiana, here's a Podcast Insider show LIVE.
This week on Podcast Insider…
News:
Best Practice:
1st We're here to help you, the podcasters. That's why we're available via email, phone and video.
2nd Here are some useful tools to help you stay organized.
Calendly, a great way to handle guest booking. (Todd uses)

Schedule Once, also a good way to book calls. (Mike uses)

Reaching your audience: Mailchimp, TinyLetter and other email services. Mike and Todd use Google Groups, but it's not nearly as robust as other options.

Google Docs, the almighty online resource for collaboration, especially good for show notes with multiple hosts.
And of course if you're looking for a team to handle these things, head on over to BlubrryPro.com
Blubrry News:
Beginning last Monday (March 30), Google Podcasts for iOS is tracking separately in stats at Blubrry. You can find Google Podcasts for iOS under Clients in the Blubrry Stats section of the Podcaster Dashboard.

Listening habits have changed

a bit this spring thanks to this 'stupid virus' as James Cridland calls it

Just in case you didn't know, we never sell or share your stats info with anyone.

Announcing a new, exciting product next week.

Working towards the next release of PowerPress 8.3, featuring a fancy new UI design.
Guest co-host:
Dave Clements, Support Analyst, from the Blubrry Support team. He's the host of Geek This!
Intro and background, how'd you get into podcasting, what led you to Blubrry, customer support survivor story, recent projects (

PP theme

).
Support:
Accidentally added a season to your show in PowerPress? So did we. Double check your settings for Apple Podcasts in the plugin and if you have added a season or two, you can easily edit them out. But, we're planning now to fix this in a new version of PowerPress.

One-on-one consulting with customers is booked two weeks out. Please be patient and we'll do our absolute best to assist via email and phone.

We do have loads of videos here

.

You don't need permission, but you probably need some guidance. And by that, we mean please ask us before you move your website to something other than WordPress. There are multiple requirements before moving, and it is way, way easier to do it properly before than to fix after the fact.
Promo code INSIDER for a free month at Blubrry.com
Coming at you this week from two very separate podcast studios in Michigan. Produced by the Blubrry Pro-Production team.
Schedule a one-on-one with Todd (hosting customers only) Email todd@blubrry.com
Schedule a tech checkup with Mike (hosting customers only) Email mike@blubrry.com
Send us your podcast sticker and a self-address stamped envelope (SASE) and we will send you a Blubrry care package.
Our mailing address is:
Blubrry – MacKenzie
150 E. Campus View Blvd. #180
Columbus, Ohio 43235