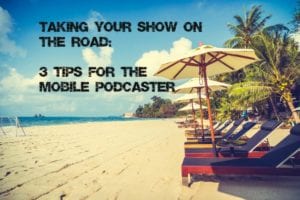 Okay, maybe podcasting on the beach is more fantasy than reality. But if you've ever dreamed of living a nomadic lifestyle – or just think it would be fun to take your podcast on the road with you when you go on vacation – you might wonder how on-the-go podcasters make it work.
Luckily, with some planning, podcasting from the road is very possible, whether you're embarking on a series of live interviews cross-country, or just want to record, publish, and edit from a hotel room. Here are some tips from mobile podcasters who've been there:
1) Create Smart Systems
"Publishing is so easy on the road as long as you have all the pieces with you," says Jane Ellen, founder, and host of the Glistening Particles podcast. Jane, who travels for a month each summer, finds that having specific systems for recording and publishing are key to helping her continue to get fresh content out weekly.
The recording is, obviously, the first step. Right after recording her podcast, while she's still in front of the mic, Ellen does three things: first, she records a 10-15 minute audio for her social media person, so she will have the essence of the conversation and topic without having to listen to the entire episode. Second, she records her intro and outro. Then, she stores all the files in Dropbox so she can access them from anywhere. "The whole idea is to minimize the number of touches and have the pieces ready to go and accessible," says Ellen. And while it's certainly possible to record while on the road, the versatility of podcasting makes it easy to record as much as possible ahead of time to reduce the need to record in unfamiliar environments.
Publishing is typically easier to do on the road, but it still helps to have systems in place. Jane says she will often edit and mix final audio and writes her show notes while on the road – even while on a plane. As soon as she gets to decent wifi, she can publish the episode. "If I'm only doing editing & publishing all I need are headphones and my MacBook. If I think I'll need to record some extra pieces or ads, I'll bring my small Sure MV5 USB mic."
When schedules are unpredictable and wifi isn't guaranteed, the key to recording, publishing, and key is to create systems that take advantage of uninterrupted blocks of work time and access to high-quality wifi, when you have it. The more you get done when opportunity strikes and the easier you make it to access everything you need later, the less you'll have to scramble to make things work in less-than-ideal circumstances.
2) Plan For Emergencies
"When traveling, assume stuff is going to break," advises Brian Thomas, owner of Yōkai Audio in Kalamazoo, MI, and sound engineer for podcasts including Make Light and Crunchy Cocktail Hour. "Bring extra cables, batteries, microphones, and devices if you can afford them. Have a backup plan for what you're going to do when a critical piece of equipment goes down, starts on fire, or gets a pitcher of beer spilled on it." When recording while on vacation or doing on-site interviews, that last warning may be more likely to come true than you think!
3) Take Time For Good Sound
Though you may not be able to take your full home studio on the road with you, that doesn't mean you have to give up on sound quality. No matter where you'll be recording, here are two simple steps you can take to improve sound quality.
Choose the right place to record. Thomas suggests checking the acoustics in an interior space by clapping your hands together slowly, but as loudly as you can, walking around the room. "Listen to the way the sound of your claps changes as you walk from place to place," he suggests. "Chances are, your claps will echo or reverberate at least a little. Rooms with high ceilings and unadorned walls tend to have great big booming echoes, which will definitely come through on your recording. Find the space with the smallest amount of echo/shortest reverberation – that's where you want to record." This might be a place you least expect, like a walk-in closet, or even the front seat of your car.
Make sure you're holding your mic to your best advantage.  If you're using a cardioid microphone (like the Audio Technica ATR-2100 or Rode NT1-A, for example), there will be parts of the mic's barrel that capture sounds much more readily than others. You can use the mic's "dead spot" to your advantage if you're recording in a noisy restaurant or outdoor space. "Recording in a public space containing more audio than just the voices of yourself and your guest can help tell the story you're trying to convey by providing a context, but you don't want it to overpower your conversation," Thomas points out. "Use the dead spot to keep those extra noises safely in the background of your interview." Read more about getting the best possible sound from your mic. 
Above all, don't let technology stop you. Chances are good that the same setup you use at home can be easily taken on the road with a little modification. For live two-person recordings, the Zoom H6 is a favorite. Other than that, you'll need reliable wifi at least some of the time, just like you would at home.
And while it can take some getting used to, mobile podcasting can also lead to fresh inspiration and experiences you'd never have in a home studio. Jane Ellen shares her best on-the-road experience: "A person sitting next to me on the plane asked me what I was doing, and after I explained and showed them how to get to my show, I got to see them listen to an entire episode during the flight and give me immediate feedback! It was bliss."