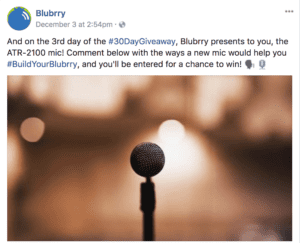 This holiday season, treat yourself and your podcast to a chance to win great products and services with #BuildYourBlubrry, a 30-day prize and service giveaway happening from now through December 30!
Each day we'll be posting a prize and a prompt on Facebook or Twitter, and one lucky podcaster will be selected at random to win.
What you could win:
From mics to mixers and everything in-between, all the prizes are hand-selected gear that the Blubrry team loves and trusts. We're also going to be giving away valuable Blubrry services, like trials on podcast hosting or service upgrades to existing customers.
How to enter:
Just head to Blubrry's Facebook page and follow today's prompt. Your daily assignment might be as simple as sharing a post on your Facebook page, or we might ask you to tell us a little about how you'd use the day's prize if you were to win it. Winners will be notified via direct message. It's that easy! You can enter to win every day of the contest, and follow along with the prizes and winners on social media by following the hashtag #BuildYourBlubrry.