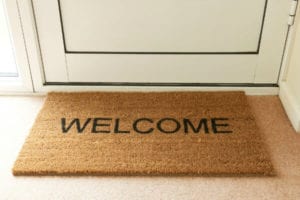 Anyone whose podcast depends on interviews with guests faces the same dilemma in the beginning: without guests, you have no show. But before your show is well-known, how can you get guests?
These 8 tips from the Blubrry team and podcast hosts will help you land those guests and put out a great show, even if you're just getting your podcast off the ground:
Just ask. Graham Smith and Kirsten Dunlap, co-hosts of The Home Hour podcast, have had success booking well-respected experts even though they just got their show off the ground about six months ago. Their number-one piece of advice? Just ask. "The reality is, you're offering a great service to potential hosts," says Dunlap. "Be confident that you're giving them a lot of value – it's an even exchange."
Play up your strengths. Just starting out? Don't focus on the small size of your audience, but accentuate the positives about working with you, suggests Dunlap. "You might say "we have an audience full of women who are interested in these kinds of things," she says. "Don't focus on the numbers if they aren't impressive – they may not ever ask, so don't let lower numbers hold people back from saying "yes."

Land a big fish – and talk it up. It might take a while, but if you can reel in a well-known guest, you can use that name as bait to hook other guests in the future, suggests Smith. After getting a B-list celebrity to agree to be on a future show, Smith began dropping her name in conversations with other potential guests. "It's some level of flattery – suggesting that you believe the person you're asking is in the same leagues as your famous guest. Once the episode with a well-known guest has actually aired, you're in an even better position to capitalize on the connection via your podcast website and social channels. But don't worry too much about your potential guests' audience size, suggests Dunlap. "In the beginning we got a little starstruck and had on some guests with giant followings. But those people are busy and don't always share your stuff to their audience." She shares that guests with smaller to medium-sized followings are usually much more generous with sharing the episode out to their following. "You don't have to get a big name to have a good show with a great guest," says Dunlap.

 Make the ask personal. "I always find something personal to add to my initial outreach email – it's never a mass email," says Smith. Dunlap agrees. "I think if you find guests who really bring value to your listener, it comes across in your ask and helps you narrow down which guests to ask.

Make it easy. "I offer potential guests flexible appearance times, and make sure to respect their time by staying within the time allotted," says Blubrry CEO Todd Cochrane.
Do your homework. "I do a lot of research before inviting a potential guest on the show," says PowerPress Podcast Host, MacKenzie Bennett. "If it turns out they're not a great guest in the end, it's usually on me."

Partner with a publisher.  The publicity department at a publishing house, or even independent publicists, can be rich sources of interview material, since they will be looking for PR opportunities whenever new books come out. Try reaching out to the publicist of a book you really love or an author you'd love to feature: once you connect with them and have a good experience, chances are great they'll keep you on their "list" and pitch you for future authors as well.

Consider legal matters. Some hosts ask potential guests to sign an agreement signing copyright of the interview over to the host. This may seem extreme, but there's a reason. "When someone appears on your show, the words they say belong to them via copyright," explains Barry Kantz, Legal Officer and CFO at Blubrry. "It's assumed that you have permission since they are appearing on your show, but they can withdraw that permission any time they want." It's not terribly likely this will happen to you, but if you're interviewing a big name or the interview topic is at all controversial or could potentially be something the guest might want to distance themselves from in the future, it's definitely a possibility and something to keep in mind. Of course, in that case, the guest may not be willing to sign anything, so you'll have to ask yourself: how important is it that I have this guest now, versus the possibility of losing the interview later?
Armed with these tips, you're ready to get started. Remember our number-one tip, Just Ask? That's something that's in your control right now, even if you're just starting out. So show some bravery and reach out! You might be really surprised by just who says "yes."