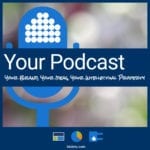 This episode of Your Podcast was recorded while Todd was on the road. Perfect time for Todd and Mike to talk about some road show tips for recording your show and making the best of it while traveling. There's a lot of talk happening right now, and they clear up some rumors that are true and some that are not true about podcasting. Thanks for listening and please subscribe to the show!
News
WWDC Podcast App Update
*** We didn't know about the RSS feed tags they added or the episode stats that will be provided in iOS11's Podcasts app. Coverage on that to come.***

Rumor Control! Downloading MP3's is now illegal (not true).

Ad Free Podcasting – Stitcher offering "ad free" podcast listening for a fee.
Tech Support
You have to publish an episode before you submit. To be published in a podcast directory, you have to have a podcast first. That means a podcast post in your RSS feed and all the other requirements. Your site (if you are using WordPress) can not be in "coming soon" mode. It has to be published and public. Just like in the phone book, you need to have a phone number before you will be in the phone book. If you want to be in the directories before you first real episode. Record an intro episode (episode zero) and publish. This will get your feed ready to go and get everything submitted before you go with episode 1 or your "launch."

Waiting on iTunes – Changes and new episodes can take 24 hours or more to update in the Apple Podcasts directory (Formerly iTunes). This is the same for most podcast directories and apps.

To ask questions or to comment on the show, contact Todd and Mike here: yourpodcast@blubrry.com