Podcast: Play in new window | Download (Duration: 33:54 — 46.7MB) | Embed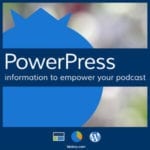 Thanks to Blubrry team member, Shawn Thorpe, for being on the show today. Last episode he provided a PowerPress tip and we talk about another important PowerPress clarification this week. Todd and Mike will be going to NAB, the National Association of Broadcasters, this week April 24-28. Todd will be on a panel about podcasting and radio, and Mike will be enjoying the show. This means he'll also be unavailable for phone support, but email will still be up and running. We also briefly discuss the changes from iTunes Podcasts to Apple Podcasts. Thanks for listening and subscribe to the show!
Fan of PowerPress? Leave us a review, here!
Show Notes:
NAB Panel: Today in Podcasting – A Radio Station's Guide to Metrics, Reach, Distribution, and Monetization
Todd Twitter – @geeknews
Mike Twitter – @mgdell
Shawn Twitter – @shawno
MacKenzie Twitter – @mackenzieb6