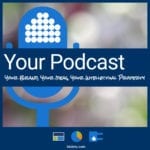 In the third episode of Your Podcast Todd and Mike go over some breaking news — Apple has rebranded iTunes Podcasts to Apple Podcasts. Apple Rebrands iTunes Podcasts to Apple Podcasts. They also talk about Adam Curry's new device for podcast production, some topics around advertising, slow feeds, rebranding your show, and even a listener question.
Thanks for listening and subscribe to the show to be the first to get new episodes every other Monday.
News:
– Apple Rebrands iTunes Podcasts to Apple Podcasts
– Podcast Movement – Anaheim CA  August 23-25th
For a discount on tickets, use promo code: "blubrry" for 10% off!
Topics:
– Advertising deals – Medical related, and military-related.
– Slow, aka cheap hosting service and RSS feeds.
– Sequencing your show in a methodical way.
Listener Question:
from Michael Harren
"Hi gents!

I'm really loving what you're doing with "Your Podcast " I'm already a big fan.

Your last episode made start questioning something I have recently started doing in an effort to get my podcast to as many ears as possible.  My podcast lives at mikeypod.com which is a self-hosted WordPress site and I happily use powerpress. A couple months ago I decided to also upload each new episode to soundcloud and mixcloud thinking that if I am clever with my tagging on those site, I might get some new listeners who would then follow the link back to my site.

Now I am starting to wonder if that is not such a good idea after all — do you have any thoughts about this? Am I shooting myself in the foot by taking attention away from my own website?

Thanks and keep up the great work! I'm so grateful for everything y'all do at blubrry!"
Tech:
Rebranding or changing services? You must do it in a particular order to keep your subscribers.
1. Keep your old site/domain alive for a while (30 days is good for most situations).
2. Move your media — if needed (PowerPress has import and migration tools built-in).
3. 301 redirect your old feed to your new feed.
If your current service will not 301 redirect your feed, then double post to the new and the old feed for 4 episodes (or 30 days) with an announcement in the old feed saying you are moving and where you are moving to. You must keep both services running for that time to be sure to get most of your subscribers to move.
See: Migrating to Blubrry
To ask questions or to comment on the show, contact Todd and Mike here: insider@blubrry.com