Podcast: Play in new window | Download (Duration: 33:57 — 46.8MB) | Embed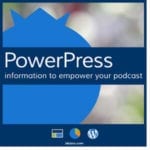 Mike Dell of the Blubrry team joins MacKenzie on the PowerPress Podcast to discuss the 2017 Infinite Dial Report, an annual study released by Edison Research and Triton Digital that shows the latest information on digital media consumer behavior. Mike and MacKenzie chat about a certain statistic that stands out this year that you'll for sure want to know about.
They also discuss the new Blubrry show, Your Podcast featuring Mike and Todd Cochrane, RawVoice and Blubrry CEO. The show focuses on how your podcast should be in your control — tune in to learn more.
Lastly, CIO Angelo Mandato stopped by to talk about the difference between web and podcasting SEO, specifically in PowerPress.
Quick note — We will be changing our release day after this episode to Mondays. Look for PowerPress Podcast episode 42 on Monday, April 10.
Fan of PowerPress? Leave us a review, here!
Show notes: