Podcast: Play in new window | Download (Duration: 39:46 — 54.7MB) | Embed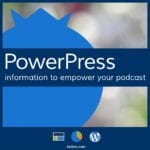 Big thanks to Michael Arias for being our guest on this week's episode of The PowerPress Podcast with MacKenzie. Michael's show The Dental Marketer is only six months old, but he's already seeing ways to profit. We talk about new opportunities that arise — personal and professional — and learn how Michael found his niche and discovered how passionate he is about podcasting. After talking about his show, MacKenzie and Michael discuss live podcasts and how they're gaining in popularity. Thanks for listening and please subscribe!
Fan of PowerPress? Leave us a review, here!
Show notes:
How to Produce Podcasts That Create Innovative New Opportunities
The Dental Marketer
–Twitter
–Facebook
–Instagram
Live Podcasts
Blubrry Twitter
Email MacKenzie