Podcast: Play in new window | Download (Duration: 34:04 — 46.9MB) | Embed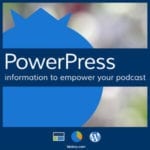 New podcasters are full of questions and uncertainties and Todd Cochrane answers some of those questions and considerations. Todd joined MacKenzie on the PowerPress Podcast to give an educated and experienced opinion on what you should think about before you start your show. And speaking of beginners, there is a new app for podcasting, Bumpers.fm. The app was developed by two formers Twitter engineers and focuses on making recording, editing and publishing your episode easily. If you're interested to hear what Blubrry has going on with new releases, make sure to listen to the beginning of the episode when MacKenzie and Todd discuss the upcoming social media sharing tools. Thanks for listening and please subscribe to the show!
Fan of PowerPress? Leave us a review, here!
Show notes: