Podcast: Play in new window | Download (Duration: 30:46 — 42.4MB) | Embed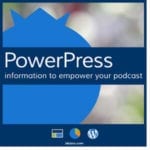 Podcasts are supposed to be an art, about creativity, but they're not always that easy. Barry Kantz, RawVoice and Blubrry team member joins MacKenzie on the show to give podcasters some pointers about protecting their show against issues with copyright and trademark. He explains and points out the differences between copyright and trademark material. We didn't leave out news articles for episode 32 of the PowerPress Podcast. If you're a fan of Catherine Keener, Oscar Isaac or David Schwimmer, go download the new podcast, Homecoming; Gimlet Media got actors to voice the new show. And those of you that are looking for a new service to record their show easily with others that are not in the same room, test out Cleanfeed. Record in your browser, download the file, pretty simple for any podcaster. Thanks for listening and subscribe on iTunes, PocketCasts, GooglePlay, etc.
Fan of PowerPress? Leave us a review, here!
Show notes:
Homecoming Podcast – Gimlet Media
Fair Use in Copyright
Cleanfeed Recording
Email MacKenzie
Blubrry Twitter