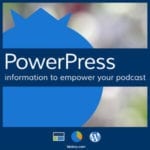 MacKenzie is solo on the PowerPress Podcast, you've got to listen to the episode to find out why. Regardless, she tells you all about this new thing, the podcast garage in Boston, discusses her podcast chronicle, gives a quick update on Blubrry and last but not least, a list of some podcasts to listen to if you're feeling like you can't escape the Olympics. The podcast garage is a new community space for 'audio enthusiasts' and a great outlet if you're looking to record somewhere other than your closet. Podcasting issues come up, if you'd like to know how to prevent a potential podcast failure, learn from MacKenzie. Thanks for listening and please rate and review the PowerPress Podcast in iTunes! Don't forget to subscribe as well. Options are on the right hand side of the webpage.
Fan of PowerPress? Leave us a review, here!
Show notes:
Facebook Instant Articles is coming soon!
Next Blubrry webinar is August 18th
Podcasts to Listen to Alongside the Olympics
Podcast: Play in new window | Download (Duration: 23:50 — 32.8MB) | Embed