Podcast: Play in new window | Download (Duration: 37:00 — 34.0MB) | Embed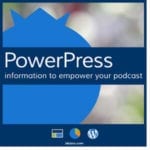 MacKenzie had the pleasure of speaking with Brian Dunning on the podcast this episode. He's been a podcaster for over ten years now and they discuss just what makes his podcast, Skeptoid, stand out from the rest. Have you heard the latest podcast listener numbers? Before this podcast was recorded we got some great news that monthly podcast listening has increased from 17% to 21%. We've included a link for more detailed information about this below, but for a preview — weekly listening has increased from 10% to 13% and 36% of Americans people have listened to a podcast.
Thinking about attending Podcast Movement? Use our affiliate code Blubrry to get $40 off your ticket! Thanks for listening!
Show notes:
Infinite Dial Podcast Research
Brian Dunning, Skeptoid
Podcast Movement Ticket
Fan of PowerPress? Leave us a review!