Military Homeschool Podcast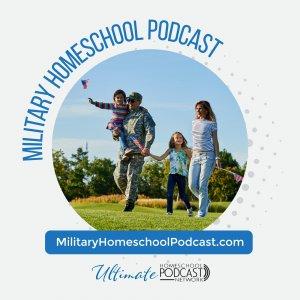 Latest Episodes

August 22, 2023
Moving with Kids Susan Miller Shares Hope and Encouragement - S2, E2 - Crystal chats with guest Susan Miller from Just Moved Ministry about the impact that moving has on the entire family and how mo

August 15, 2023
Kick O Your Homeschool Year Right! S2, E1 - Kick O Your Homeschool Year Right! Its that time of the year when kids and families are preparing to go back to homeschooling! Whether you are a year-ro

July 18, 2023
Episode #30- As military families, we move around a lot! And as a result, we must determine a new dedicated homeschooling area in each house or apartment we live in every few years. We may even find o

July 11, 2023
Military Education Services Coordinator, Kelly Robinson, shares tips and insight on preparing homeschool students for college so they can get the most out of their college experience!

June 29, 2023
On todays episode, Crystal discusses factors to consider when making your homeschool curriculum decision and how you can successfully homeschool as a military family.

June 12, 2023
For this episode of the Military Homeschool Podcast, military spouse, Conli McVey, joins Crystal Niehoff to discuss how she juggles military life and working from home while homeschooling.

June 05, 2023
Episode #3- Homeschool High School Transcripts - On this episode, Lisa Nehring, Director of True North Homeschool Academy, joins Crystal Niehoff to discuss homeschool high school transcripts. - Lisa a

May 02, 2023
Tips for Marriage While Homeschooling - Episode #42 - Marriage tends to be placed on the back burner during the busy homeschool years. But you can balance your relationship with your husband while hom

April 18, 2023
Homeschool Schedule Vs. Routine Homeschool Schedule Vs. Routine Episode #41 - In this episode, lets discuss how to determine the ideal way to plan your homeschool days to ensure success! - Homeschool

April 04, 2023
Homeschool HQ App - Homeschool HQ App. Episode #40 - Do you ever wish you could find all the homeschool resources you need all in one place? Look no further than the HomeschoolHQ App, created by a mil