Green Wisdom Health Podcast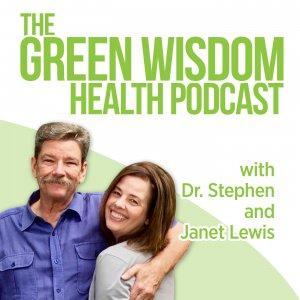 Latest Episodes

May 05, 2020
We are exposed to countless enviromental toxins every day through our food, water and air. While the body works tirelessly to detoxify, humans are exposed to far more toxins than ever before, so our bodies can use all the help they can get.

April 29, 2020
Many people have experienced an increase in stress, anxiety, and depression over the last few weeks. There have also been reports of increases in the consumption of alcohol and unhealthy foods. These things can all take a toll on your health,

April 21, 2020
Depression and other emotional disorders have been on the rise over the last few weeks, mostly due to feelings of isolation during these lockdowns. However, consumption of junk foods like chips, cookies, breads,

April 16, 2020
For the past month, many people have been spending nearly all of their time inside the house. People have turned to many different hobbies to pass the time. One of the most common hobbies has been baking and cooking.

April 08, 2020
Disinfectant products and other household cleaners have been flying off the shelves in the last few weeks, but how safe are these products? Long-term use of many common cleaning solutions and disinfectants have been linked to a number of health problem...

March 31, 2020
In times like these, it can be easy to start stressing over things, especially things that you cannot control, but stressing doesn't benefit you mentally or physically. Maintaining an attitude of gratitude by focusing on the positive,

March 25, 2020
With fear and anxiety heightened due to current world events, many people are spending each day worrying about many different things, often things that are out of their control. This worry and stress takes a toll on both mental and physical health,

March 17, 2020
With so much fear affecting people around the world right now, and constant negative news and social media updates, it can be easy to be caught up in it and forget how to be positive and joyful. While you can't choose your circumstances,

March 11, 2020
With all the news recently about the importance of washing your hands and staying away from sick people, you may be wondering what you can do to help bolster your immune system since you can't always guarantee that you won't be around someone who's sic...

March 04, 2020
With the almost half of the people in the United States living with at least one chronic health condition, many people have accepted that the way they feel is normal. Feeling tired, depressed, irritable, or having brain fog,