The Billowing Hilltop - A D&D Podcast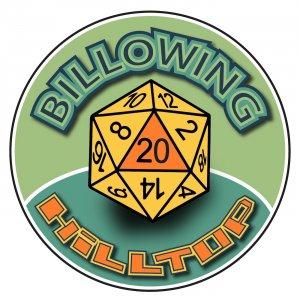 Latest Episodes

January 18, 2023
Its time for a festival of exposition as the Slayers visit Marcus, relate their tale and learn new lore.

January 11, 2023
Something is coming through the vortex gate from the Shadow World. What can it be? Will it bring a gift? The Slayers deal with inter-dimensional matters before resuming their exploration of the Ziggur

January 04, 2023
The Slayers must face the naga. What strange contraptions are to be found in its lair? And is there a way back for Uncle Buggie? If you are enjoying our show we would be delighted if you could vote fo

December 28, 2022
Has Allessandra destroyed the vital necronite crystal of anti-greebliness? That would be bad. The Slayers struggle to answer questions, see visions and have one drink too many.

December 21, 2022
We chat a little about another year on the Hilltop and then rejoin the action as the Slayers try to rescue themselves from the six-armed undead alien greebly and start looking for a way to defeat it

December 14, 2022
The six-armed undead alien greebly has zapped our gallant heroes with a Prismatic Spray! Expect Oort dice a-plenty!

December 07, 2022
Kyuss horribles, gelatinous blobs, plenty of metagame squabbling and a six-armed, undead, alien greebly. What else could you want?

November 30, 2022
Our heroes are beset on all sides by the Nasties of Kyuss but distract themselves from their predicament with levelling-up admin. + well be in the Podcast Zone at Dragonmeet on 3rd December 2022. Co

November 23, 2022
The characters spend ages discussing how best to mount a surprise attack on a gelatinous cube, then attempt to retrospectively re-work their actions once things kick off. In other words, its business

November 16, 2022
Buggie has got himself into trouble. Kyuss-based trouble. Can Sessions get him out of it? Our gallant gang continue their adventures in the Ziggurat of Evil. CONENT WARNING: Episode contains extende