The Billowing Hilltop - A D&D Podcast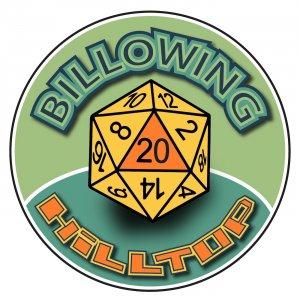 Latest Episodes

May 31, 2023
The Slayers pop to the casinos of Evenstar for a spot of shopping. But things do not go as planned… This episode is brought to you in association with tabletopdominion.com. Visit now and use code BILL

May 24, 2023
The Slayers have surprised an old adversary in their room. But is all as it seems? This episode is brought to you in association with tabletopdominion.com. Visit now and use code BILLOW at checkout fo

May 17, 2023
The fight with the Acidwraith reaches its long-awaited climax. But are the Slayers trapped by Ilthanes brood? And what treasures remain to be found in her lair? Visit tabletopdominion.com and use cod

May 10, 2023
Disaster strikes the Command Pod. While Lucas is called away to avert tragedy, the endless combat with the acid thing continues. Can the gang run Parker in Lucas absence? No. No they cant.

May 03, 2023
Happy Star Wars Day! We actually go IN to an asteroid field as we chat with Ren-Pier of Fari RPGs about the Stoneburner Kickstarter. Then it is back to Ilthanes lair. Are you crazy enough to follow

April 26, 2023
Paul joins Mike to chat about his new character, then we rejoin the Slayers as they find themselves trapped between a dungeon and some dragons!

April 19, 2023
Its time for the great boar race! Or is it? Has the DM spent ages* working up a set of race rules for nothing? Whatever, once the excitement is over, the Slayers set off for Traitors Graves Island.

April 12, 2023
The gang meet a new associate lets not go so far as to say friend and would like nothing more than a decent nights rest. But there are more comings and goings in their hotel room than an episo

April 05, 2023
The surviving Slayers level up, split the loot, and encounter a mystery figure.

March 29, 2023
All is still. All is dark. The Ebon Aspect stands motionless. In the deep crypt the only sound is the creak of Allessandras bow as it is drawn for the killing strike. This is her moment.