The Billowing Hilltop - A D&D Podcast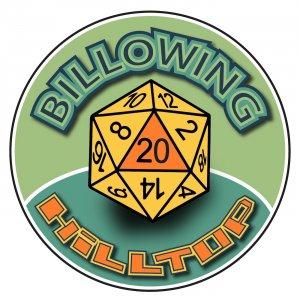 Latest Episodes

September 07, 2022
We rejoin our heroes below the great Ziggurat of Kyuss as they confront his myriad malevolent guardians. How much danger are they in? Were thinking: lots.

September 04, 2022
A while ago the Elders of the Hilltop put away their dice and chatted away for a while about all things D&D, Pathfinder, adventures, old-school and whatever. We have dusted down that recording and her

September 01, 2022
The Lands that Wait must wait no longer. Doombringer sends the Slayers through the portal to the jungle city of Kuluth-Mar. What perils await our heroes in the ruins?

August 25, 2022
Our gallant gang of gadabouts hear the detail of Doombringers deal. Will they redeem their rod for a reward?

August 18, 2022
The Slayers have reached Truespire and encountered an old friend. Now they must meet with the mysterious Marcus Doombringer. What nature of creature is he? What wisdom can he offer our heroes? And wil

August 11, 2022
The Slayers encounter faces from the past and some creatures from goodness-knows-where.

August 09, 2022
Readers Mike and Steve join us on the Hilltop to talk Age of Worms and D&D in this SPOILER strewn bonus episode!

August 04, 2022
We begin Book 7 of the Age of Worms! Blessed by the benevolence of Oort and weighed down with the treasures of the tomb, the Flayer Slayers must begin their journey north. But what surprises await the

July 28, 2022
Drinks break over, we return to Episode 100! The Flayer Slayers have found the last resting place of Icosiol, and great treasures await them. But first they must face the Guardian of the Tomb!

July 21, 2022
Have Burples Eldritch senses led our heroes to the true tomb of Icosiol? Can they cross the chasm? Can they find the way? Find out in the first part of our 100th episode!