Unearthed: Memphis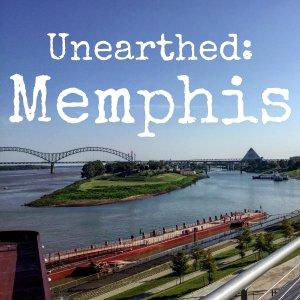 Latest Episodes

December 16, 2021
If you were to mention the word "Titanic" to a random stranger today, and asked them to tell you what that word means to them, there's a very high chance that you would get one of the following respon

October 29, 2021
Hey everyone and welcome back to Unearthed Memphis! I'm Alan and I'm Tara We hope you enjoyed our last episode about Memphis Hoodoo and the St. Paul Spiritual Holy Temple. I did! I'm still googl

October 16, 2021
Since it's spooky season, I thought we could talk a little about a Memphis urban legend… What do you think is one of the most well known urban legends? I'd probably say, Voodoo Village.  That

August 15, 2021
This episode came from an idea in a book I saw at Novel, our wonderful locally owned and operated bookstore. While browsing in the Local Memphis section, I saw this book, "Memphis Castles - Former Hom

June 28, 2021
We have to thank a supporter/friend that we've yet to meet, Jerry, who sent us kind of a suggestion for this topic. On one of his daily walks, he took a picture of a plaque on the side of the Evergree

May 23, 2021
So today we're going to cover a topic that hits really close to home for us…  and by that, we mean that it helps to literally pay for us to live in our home. We are, of course, talking about a place of employment.

April 25, 2021
Most Memphians will agree on one fact about their home city. Memphis has great tasting water. The water supply in Memphis comes from natural reservoirs hundreds of feet below the ground, and most of that water lies in sand aquifers that sit between lay...

March 22, 2021
Opening in the 1890s, the Bon Ton Cafe has been operating in some form or fashion in downtown Memphis. Apparently the cafe was originally a saloon in the late 1800s, but was then turned into a restaurant in 1904. Tony Angleos and Charlie Skinner,

March 01, 2021
The spot that is now occupied by Earnestine and Hazel's at 531 South Main St was once the exact opposite of what it was to become in the future. In the late 1800s, it was built as a church, complete with fancy doors and a steeple.

February 13, 2021
"The day of our wedding was set, and then not all the powers in the world could have separated us. It was our intention to leave here and go to St. Louis, and I would have been Freda's slave. I would have devoted my whole life to making her happy---But...