Unearthed: Memphis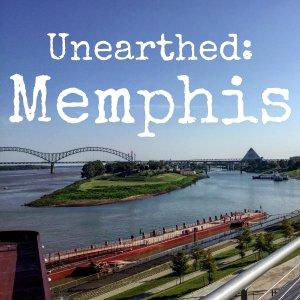 Season 2: Episode Five: Amro Music turns 100 years old!
May 23, 2021
So today we're going to cover a topic that hits really close to home for us…  and by that, we mean that it helps to literally pay for us to live in our home. We are, of course, talking about a place of employment. We are both gainfully employed by fantastic, privately-owned, local companies that have rather long histories. And both companies are hitting huge milestones this year and next. Memphis Dermatology, where Tara works, will hit 50 years this next year… That's an amazing achievement for any privately-owned business! I'm sure you'll hear us talk more about them in the future. Tara has been with them for 13 years now, so it's a regular topic in our conversations anyway. 

Alan's place of employment for the past 16 years, Amro Music Store hit a gigantic milestone this past month. And that is the topic of our episode!  As of April 10th of this year, Amro Music has been open, and owned and operated by the same family, for one hundred years! Wow… such an amazing accomplishment! 

We went to their 100 year celebration a few weekends back and it was a lot of fun. It's amazing to me when companies are able to withstand the test of time. Someone is doing something right. One of the reasons we try to mostly buy local is because most local companies give back to their communities and Amro is no exception. From what I know, as a previous band kid, and what I have heard from other band parents and children, if you want to be taken care of, you go to Amro. They are a pillar in the Midsouth music community.

Amro Music is the largest band, orchestra, and piano retailer in the Mid-South, and is actually one of the largest in the nation as well. They began renting musical instruments for student use more than 50 years ago, and they now supply a large majority of the band and orchestra instruments found in school programs in the Mid-South. Amro is widely respected for its long history of service to music education and Mid-South musicians, the high quality of its employees, its involvement in and assistance to the local music community, and its long-term stability as a business.

Amro is also one of the most prominent piano retailers in the Mid-South, providing pianos and organs for both rental and purchase, with a highly qualified team of experts to help people find the perfect instrument for their home or institution. Amro has also been a Steinway & Sons piano dealer since 1964. Being a Steinway dealer is a big deal…  not every dealer gets to represent Steinway pianos. They're the only concert piano manufacturer whose products are still handmade in the United States. 

And didn't Steinway make a fancy 100 year celebratory piano for y'all to have in your showroom?

They did!

I think that's pretty cool…they must like you guys a lot...

So how does a company that serves so many communities, take care of all of those customers?

Well, Amro has 8 educational representatives, many of whom have formal music education training and years of teaching experience, that regularly visit most of the schools in the mid-south. They provide support for the band and orchestra programs within their respective territories, providing advice, product support, and basically anything else to make sure that the students and directors have everything they need to succeed in their instrumental music learning and teaching efforts. They are an amazing resource for both new and seasoned music educators.

Additionally, an in-store team of band and orchestra experts, known as Director Services (this is what I (Alan) do at Amro) act as a music educator call center to provide support for school music educators, as well as the Amro educational representatives (so the ed reps can spend ...
---
Download Episode