Popular Pig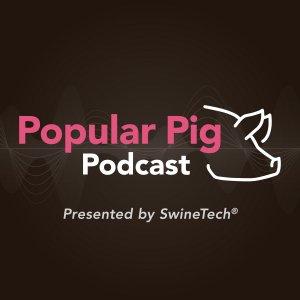 Latest Episodes

July 22, 2021
... Show MoreThe Importance of Technology and Communication When Facing Adversity | Dr. Brad Freking

July 15, 2021
... Show MoreThe Scientific Impact of Water Quality: Myths & Facts | Andreas Funk

July 08, 2021
Following the completion of his Doctoral Degree in Meat Science and Muscle Biology from the University of Missouri-Columbia, Dr. Chad A. Stahl founded Food Animal Consultation and Testing Services (F.

June 24, 2021
Dr. Jim Pillen is a pig farmer, veterinarian, and the founder and chairman of Pillen Family Farms and DNA Genetics, a multi-generational family business that employs over 1,100 team members. Raised on a farm in Platte County,

June 17, 2021
Dr. Jason Ross is the Lloyd L. Anderson Endowed Professor in Physiology in the department of Animal Science at Iowa State University. In October, 2015, Jason became the Director of the Iowa Pork Industry Center with responsibilities in research,

June 10, 2021
Dr. Mark Lyons represents the second generation of the global business his father, Dr. Pearse Lyons founded in 1980. With experience working in all regions and nearly all departments — from palletizing bags in production to researching in the lab — he ...

June 03, 2021
Glenn Stolt serves as President and Chief Executive Officer of Christensen Farms. Glenn assumed the CEO role in November of 2012 upon the unexpected passing of Bob Christensen, founder and CEO of the company. Glenn is responsible for all strategic,

May 27, 2021
Dr. Kara Stewart received her bachelor's degree from Purdue in 2001 and her Master's and Ph.D. from NC State with Dr. Billy Flowers in 2004 and 2008, respectively. Kara taught in the Animal Science department at NC State for 2 years before returning to...

May 20, 2021
Matthew Wilkin is a pork producer and the owner of White Syke farm, a 2,000 sow family farm in Yorkshire UK. He is also the inventor and co-founder of FARROPEN, which is a company that manufactures and distributes a unique 360 degree farrowing pens.

May 10, 2021
Paul Willis is a 5th generation family farmer and founder of the Niman Ranch Pork Company. He has owned and operated the Willis Free Range Pig Farm in Iowa since 1975. Today he works hard to increase opportunities for traditional,