Podcast: Play in new window | Download (0.0KB) | Embed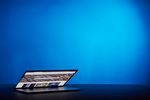 Never one to shy away from encouraging podcasters to have a website of their own, we did a deep dive into why podcasters should take control of their podcast on all levels. Kate joined Mike to discuss what exactly a podcast is – the ins and outs – as well as the numerous benefits of having your own website, with a significant example from earlier this week.
Special guest host: Kate from Blubrry Pro Production
Thanks for joining us on this episode of Podcast Insider. Looking to be a guest on the show? Let us know.
News
Yes and no. While you can certainly repurpose any audio content and add it to your RSS feed to make it into an actual podcast, a video on Youtube is not a 'podcast' any more than a music video is a podcast. An actual podcast requires an RSS feed. There is quite a bit of value in putting your RSS based podcast on YouTube with a static or even a series of images that match the content and loading that up for additional listenership that drives your listeners/viewers to your website and yes, I'm going to circle back once again because it cannot be said too much, if you don't have everything on your own website, your own .com or dot, then you don't actually own your intellectual property or the land on which it lives and you could be shut down and offline in a second.
Best Practice
Piggybacking off the Facebook outage, a best practice for any business, especially podcasters, is to have your own website where your content will never go off line. While we beat this like an old dead horse, we do that for a reason. Hundreds of thousands of businesses who only have a 'Facebook website' lost untold dollars of revenue when the platform went down and customers didn't have an actual website to visit. Best practice of the day is to always have your own website for your podcast and your business and avoid being at the mercy of someone else's bad tech.
Blubrry News
Winner of the free year for giving us feedback on the new dashboard changes has been selected.  We will have him on Podcast Insider next week.

PowerPress 8.7.4 is out, minor bug fixes and a typo fix.

Follow our Instagram account to keep up on blog posts and releases, podcaster of the month, etc.

Blubrry Pro Tip
Why Only Using Social Media is Dangerous and How to Fix That DB Link
Question(s) of the Week
Question: Are ratings and reviews on Apple Podcasts important?
Answer: Yes and no.
Yes, they can be good for social proof. They can be great for indicating what you are doing right (and wrong). It's a good ego boost that you might need to keep going if you don't get a lot of other feedback.
No, it will not help your rankings at Apple podcasts or anywhere else we know of. The system isn't global and the ratings and reviews only show up in the native country. The AI Apple uses is no longer tied to the R&R and are geographically limited. Now, The Sound Guys disagree with me and say that success begets success and that ratings and reviews push visibility. I disagree with that, while it does add a level of "at first blush" street cred to a podcast, it does not guarantee sustainability – by that I mean a listener listens once based on R&R and never again. The ongoing subscribers and downloads are the actual metric of "success" in this milieu.  And the argument continues… in my experience it's a vanity metric that only goes so far. A successful podcast has its own email list opt-ins, an engaged listener base, and is hosted on its own website.
If you want to keep track of all your ratings and reviews from every country on Apple Podcasts, Stitcher, Podchaser and Castbox, all in one place…  check out My Podcast Reviews – https://mypodcastreviews.com/  
______________

Got a question you'd like us to answer on the show? Drop an email to mike@blubrry.com (audio, text, video) and we may use it.
______________
The best place for support with any Blubrry products/services is our ticket system (https://blubrry.com/support/). Tickets give the whole team access rather than direct emails or calls.
______________
Produced by the Blubrry Pro-Production team.
Schedule a one-on-one with Todd (hosting customers only). Email todd@blubrry.com

Schedule a tech checkup with Mike (hosting customers only). Email mike@blubrry.com


Send us your podcast sticker and a self-addressed stamped envelope (SASE) and we will send you a Blubrry care package.
Our mailing address is:
Blubrry – MacKenzie
150 E. Campus View Blvd. #180
Columbus, Ohio 43235