#WeGotGoals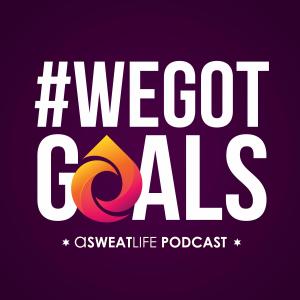 How Triathlon Coach Sharone Aharon Helps Athletes Climb to New Peaks of Success
August 15, 2018
Triathlete and coach Sharone Aharon faced some obstacles en route to completing his first Ironman.
First of all, he'd never done any type of multisport event. He didn't own a bike. His longest run was about 20 minutes, done as part of his training for the Israeli Secret Service. The first time he got into the pool, he swam 200 yards—then went to the locker room and threw up.
Still, 10 months later, he finished the 2.4-mile swim, 112-mile bike, and full 26.2-mile marathon at Ironman KONA.
As Aharon explained to me on this week's episode of #WeGotGoals, getting there required a combination of confidence and naïveté.
"I didn't have a doubt in my mind that I would make it," he says. "Look at little kids—when they fall down, they don't think, 'OK, I will not ever try again.' I think that's what happened. I was this little kid who found a toy and dedicated his entire being to that."
Plenty of challenges—he calls them "mosquitos," because they sting but aren't serious—popped up along the way. Still, so many things fell into place. He immediately got a sponsor, a client who supported his goals despite his lack of a track record. Even the fact that he was able to get into Kona in the first place was unusual and remarkable, he notes.
All this validated what seemed like an out-of-the blue decision at the time—but eventually led to to an entirely new career. "It just came up from within, from the core of my being," he says. "I can't explain it."
"But at this point, it's part of the way I coach my athletes, how to really engage with their emotions and their goals, and how to combine them together to produce great training and great racing."
Over the 20 years since that first race, Aharon's helped thousands of athletes achieve similar ambitious goals through Well-Fit, a triathlon training program he launched in 1998. In 2009, he built a bricks-and-mortar facility. There, at 1700 W. Hubbard St., athletes can strength train (alone or in group classes), swim in Endless Pools, ride bike trainers, and run on treadmills as they train for marathons, triathlons, and other endurance events.
"We took an individual sport and we made it a team sport, and we do that at Well-Fit all the time," he says. "We have a team of people all competing individually, but because they work together, they actually achieve greater success."
Well-Fit does have an elite team, members of which tend to finish races on the podium. But you don't have to be an experienced athlete to take advantage of all the facility offers, Aharon says. You just need a dedication and a willingness to invest in yourself.
At first, "the notion was that Well-Fit is only for fast people. So I said, no … we are making people fast. That's what we can do. What we realized is that people who come here and get the most benefit are people who care about their results," he says.
How do you go from merely aspiring toward better performances to making them happen? In our chat, Aharon spills a few clues:


Don't skip the tough stuff. Endurance athletes often think long, slow distance will get them through a race. But the top performers stay in touch with high-intensity efforts and serious strength training, too. "We do need to use those high-end muscle fibers and energy systems," he says. Also, don't shy away from obstacles like wind or rain during training. Unless it's truly dangerous to be outside, embracing the elements will only prepare you for what you may face on race day.


"Surrender to the training plan," he says. But don't make it a cookie-cutter one; if you can, invest in a personalized plan and a coach who knows your life, then put your trust in that system. Don't overthink your strategy or your workouts—just show up and do them. That said, a coach can help you fine-tune if your life starts to go haywire. During times of personal or professional stress, adjusting your plan to do less may be the best way to perform well without breaking down your body, he notes.


Embrace cutting-edge technology. Novel methods and elements keep you mentally and physically engaged. Well-Fit has a brand-new bike room, complete with individual touch screens. Athletes can tap into group classes, choose from hundreds of pre-programmed workouts, or even just stream Netflix. And in a super-cool development, they've installed one of the few altitude rooms in the country, which simulates what it's like to train in the thin mountain air. Athletes who log just one to two high-intensity sessions there per week have been winning races, setting personal bests, and recovering more quickly so they can do it all over again, he notes. "You train less, and you gain more. Who doesn't want that?" he says.


In fact, Aharon's next goal—besides carving out more time for his own training—is to make his style of altitude training more widespread and accessible everywhere. Seeing others' success on the program only fuels him to reach higher in business and in the sport.
Listen to Sharone Aharon's episode of the #WeGotGoals podcast for more tidbits on performing your best, and check out the Well-Fit website for more about altitude training options—and all of the group's other plans and perks.
You can listen anywhere you get your podcasts (including Spotify!). If you like what you hear, please leave us a rating or a review. And stick around until the end of the episode, where you'll hear a goal from one of you, our listeners. (Want to be featured on a future episode? Send a voice memo with a goal you've crushed, a goal you're eyeing, or your best goal-getting tip to cindy@asweatlife.com.)
-----
[0:00]
Jeana: Welcome to We Got Goals, a podcast by asweatlife.com, on which we talk to high achievers about their goals. I'm Jeana Anderson Cohen with me I have Kristen Geil and Cindy Kuzma.
Kristen: Good morning Jeana.
Cindy: Good morning Jeana.
Jeana: Good morning. Cindy this week you spoke with Sharone Aharon, right?
Cindy: I did, Sharone is a triathlete, a coach and the owner of Well Fit Performance. Which is a pretty sweet triathlon performance here in Chicago. It's been around a long time. He's seen countless athletes achieve their goals and he's achieved some pretty cool goals himself. So it's great to talk with him.
Kristen: And Cindy you talked to him about the first time he completed an Iron Man. And it sounds like he went in with a level of blissful ignorance, maybe not quite knowing what he was getting himself into. How did that work out for him?
Cindy: Well, it actually worked out pretty well. In fact, he thinks that is one of the secrets of his success. He had been in this really secret service which is super fascinating and then he was a personal trainer for a while. He was kind of getting bored and not really sure what direction he was going to go next. So he just decided one day that he was going to train for an Iron Man. He didn't really know how to do it. But he just had this childlike approach to having fun and being excited about the training. Of course then he did some planning and got a little bit more serious about some of the hard work he was going to have to do along the way. But he really thinks that that ability to not even contemplate failure helped him achieve success. He went on to finish that first Iron Man and many more since. And then to build a whole incredible career around the sport today.
Jeana: And today he's helping take athletes to new heights in one way or another, right Cindy?
Cindy: That's also true. He has kind of taken that same approach. We talked a lot about kind of the ways, the secrets to success for all endurance athletes. And he really does think it's a combination of committing to a goal and also maintaining some of that childlike excitement and wonder. And you can see that in the way that he runs his business. He's focused, he's serious, he's intense, he has a goal but he also wants to do new things that are fun and exciting for both him and the athletes he coaches. So one of the exciting and fun things that he's done is put in an altitude room in Well Fit. I got a chance to try it out. It was a pretty cool experience basically you go in there and you work really hard for a really short period of time. And if you swap out a couple of your hard workouts on flat land for a couple workouts in that room when you're training for a triathlon or marathon, Sharone really thinks that you could do some pretty incredible things to achieve your goals. So it's kind of a cool option for athletes here in the Chicago area. And it was interesting to hear him talk about how he not only wants to use it to help athletes here. It's part of his goal to kind of share this with athletes across the country and really kind of get this idea into the sport.
Jeana: It's like moving to Colorado but not actually having to.
Cindy: Right, exactly. Although there are mountains painted on the wall so if you narrow your focus a little bit you can pretend.
Kristen: Cindy, it sounds like he enjoys coaching not just the elite athletes at the marathon and the triathlon level but anyone who's interested in investing in themselves and in improving. How does he approach training people who are maybe not at the elite level but still want to make a difference in their training.
Cindy: Yeah, I would say that he kind of treats everyone the same. Which is, you know, if you are committed to your goal and you really want to improve and invest in yourself. He's going to help you get to where you want to be. And it doesn't matter if you are on they have a Well Fit elite team and you could be a really incredible athlete on that team. Or you could be walking into Well Fit wanting to do your first triathlon. And he supports everyone kind of the same way. As long as you take yourself seriously and take your training seriously and commit to it. He's going to take a holistic approach to help you reach your goals. And my sense from my interactions with him is that if you are coached by him you're going to work hard. But you're also going to feel like you have a community there to support you and you're going to have fun while you do it. So that's really, he views all of those as important elements to success.
Jeana: That's incredible Cindy, I can't wait to hear your full interview with Sharone. Hey goal-getters, don't go anywhere. If you stick around to the end of the episode you'll hear from people just like you out there achieving their goals. And here's Cindy with Sharone.
[4:53]
Cindy: This is Cindy Kuzma and I am here on the We Got Goals podcast with Sharone Aharon of Well Fit. And Sharone, thank you so much for joining us on the We Got Goals podcast today.
Sharone: Oh, it's my pleasure. Thank you very much for inviting me.
Cindy: So if we have listeners who are triathletes or other endurance athletes here in the Chicago area they probably know of Well Fit. You've been here, you've been around a long time. But for those of our listeners in other places or who don't know about it, tell me a little bit about where we are, where we're sitting today. And who comes here.
Sharone: Okay. So we have been operating since '98, it started as a small venture for me trying to make a little bit of income while racing myself. Iron Man races. My sponsor decided that I'm too old to be a sponsored athlete. And they said I should go find a job. I decided to open the Well Fit training services and basically started to works with endurance athletes. Mainly at the quality workouts, we didn't really do let's go run on the lakefront in two rows and support each other this way. But we were focusing more on the bike on trainers, we started that program in '99. And run interval programs on the track which was back in, I believe it was 2000. And then swim technique level 1, 2, and 3 back in 2003. And then in 2009, we decided to open the Well Fit training center. Which was a one stop shop. Most likely the first one in the country for endurance athletes with [...] trainers, endless pool, gym floor. And recently we upgraded all that and added an altitude training facility.
Cindy: Yeah, I'm really interested to talk with you about that at some point. And how that's helping athletes achieve their goals. But, you know, I can't imagine how many athletes you've helped over those years. So I know you have an incredible perspective on how they've achieved their goals. But we're here today to talk some about your goals too. So let's just go ahead and start with the first big question that we ask everyone on We Got Goals which is, Sharone, what is a goal you've achieved, why was it important to you and how did you get there.
Sharone: So definitely the first Iron Man race that I've done. It was back in '98. Actually '96 I graduated from, did my masters degree in physiology. I quit my last job, a position at the Israeli secret service and then kind of was underpaid personal trainer. And decided I got to do something different. One day I woke up and I said I'm going to do the Iron Man. It's funny because I didn't really think about it much. It wasn't like oh, [...] place or anything like that. It was literally over a weekend, I thought what do I want to do. You know, I had a bunch of triathlete magazines in my apartment. Back then it was like 12 pages. You know, that's about it. And I said yeah, that's what I want to do. And probably 10 months later I was in Kona racing day. The only Iron Man those days in Hawaii. Which was amazing, unbelievable. But I can't say, I can not say that I sat down and really thought about, you know, where do I go and what do I do. And how I want my life to be and my career. It just came out from within. From the core of my being. It just popped out. I guess it was sitting there for a while. And I just didn't pay attention. And one day, boom it came out and it was like probably the best move of my life. And we're twenty years later now from my first Iron Man. And I've done so much within the sport and within the community. It just was an amazing result.
Cindy: Wow, so ten months basically from when you decided this is what I'm going to do to there you are in Kona. What did that look like? I mean, if you didn't really think through logically step-by-step. How did you go about making it happen?
Sharone: So, the first thing I did is I said was "Okay, I'm going to do this." The next day I went to the pool and swan 200 yards and threw up for a half an hour in the locker room.
Cindy: No.
[8:52]
Sharone: That's a real story. I didn't own a bike and 20 minutes was my long run. Back in the secret service we were supposed to run 2k in 13 minutes. So we thought if you run for 20 minutes that's long enough. And this is where I started. I had the physiology background. I used to work at the Israeli Olympic training center and that was my schooling about. And I sat down and wrote, I think it took me 3 weeks to write a year long training program that will take me through several peaks in the season. And it's all based on a one-pager I found online. You know those days where you click on an address online and then you go to work and at 8:00 at night it finally pops up because it's so slow. That's exactly what happened. And this is how it all started. And there was few obstacles in the way. Not necessarily obstacles but I call it mosquitoes. They bite you and you pay attention to them and then you just forget about them and keep going. But the funny thing is that I didn't have a doubt in my mouth that I wouldn't make it. I was that naive but I think that's what created the success. It was unbelievable.
Cindy: Okay, so where do you think that confidence came from? Maybe naivety as you say but it must have originated somewhere.
Sharone: I think sometimes, we look at little kids. When they fall down, they don't think okay, I'll not ever try again. You know, I think that's what happened. I was this little kid who used to find the toy and dedicated his entire being to do that. Tell you a little story, three months later there was a seminar produced by I think it was Fleet Feet. Six hours with Mark Ellen who won Hawaii six times after seven times he tried. And he was trying to promote that the Sydney Olympics and a camp to do the actual course a day before the race. And I came to him at the end of the seminar and I said, "Hi Mark. My name is Sharone and I'd like to do the Iron Man." He said, "Great, how many years are you training?" I said, "We'll I haven't really started." And he said well maybe you want to start on the shorter ones and then go to the Olympic and then maybe the half Iron Man and then maybe three years down the road do the Iron Man. I said okay. Then the next question was I would like to have a sponsor. How do I find a sponsor? He started laughing and said "Listen, why don't you start training, get good, win some local races, some regional races, get an agent and he'll find you a sponsor." I said, "okay." The next day I had a sponsor. A full board sponsor that every [...] today will like it. Not because I was so good. I was not. But I told this story to one of my clients, and they said okay we'll sponsor you. Just like that. And I don't know what it is. I didn't even have to convince my client. Just tell the story. And things just got into place along with the entire year. It was just, I can't explain it. We would need more than just this podcast to deal with that.
Cindy: I know, right.
Sharone: At this point, I mean it's part of the way I coach my athletes of how to really engage with their emotions and how to really engage with their goals and how to combine the two together to produce great training and great racing.
Cindy: So for you it sounds like it really started with that passion and excitement. And that belief in yourself.
Sharone: Absolutely. I don't know if I had to say, okay I'm believing in myself. It just was natural. It was sitting there and it was again as I said before. I didn't think it would go a different way. And one day I got a phone call, alright you're coming. But that's a totally different story about how I got it and what happened after that. So it was fantastic.
Cindy: Okay, well we can go into that story or I don't know. Tell me about some of the other mosquitoes that might have come up along the way and how you overcame them.
[13:04]
Sharone: You know, I'd been carrying two surgeries with my knees. And I was thinking I don't know how that's going to go. You know, I always ran with some kind of a brace on my knee. But then I decided okay, I'm in a training program. I know that with my profession you need to do swim, bike, runs, strength training. Nutrition is important. So I started incorporating basic strength training exercises into my plan three times a week. I never had to use a brace in my training since '98. Before that I had to run with a brace. So strength training just by doing it and nothing complicated. Today, we have so many different exercises and systems and the core like this and the core like that. Basic strength and conditioning program and it was phenomenal. That took care of my knee problems. You know, one of the races. I think the earlier races, I think it was second year. All of the new equipment come about. We used to race with speedos. I mean we didn't have all this fantastic gear. Wetsuits usually something that we borrowed from surfing. And not necessarily for. But in any event, you go into a race and I think it was in Saint Anthony in Florida. And all of a sudden you have a flat, but it's actually not a flat. You don't have a hole there but the extender of your wheel fell out and took the valve with it. But I forgot to put an extender on the replacement tire. So now, I have a replacement tire but I don't have an extender so there's no way to pump the tire. So here I am walking my bike back to transition and I remember my wife's face was like why are you walking. So this is something. So you learn over the time and I think a lot of the things we did back then. We created our equipment rather than bought our equipment. Because you need to be very creative about how to put stuff on the bike and you know how to carry extra nutrition. My coach was one of the best coaches in the country, Brock Fry. He coached his wife, Heather [...] who won in '98. And then he coached Peter Reed for a few years as well. And he once told me if you want to carry a lot of calories but not a lot of bottles, what you do is, you make a gel. You add more of the powder into your bottle. Said okay, I'll make a gel. So here I am making my gel and the whole day, it was 4.5 hour bike ride. My stomach is just killing me, I just don't understand what's going on. And that evening we had a phone call and he says to me, so what did you with your nutritious. I said, oh I made a gel but it really didn't sit well in my stomach. He says, what kind of a bottle did you use. I said I used a small bottle. And how many scoops did you put in? I said fifteen. He yelled from the other side of the line. My wife was in the kitchen and she heard him yelling 15! It was so funny. So this is another thing. So again you learn. Trips to Kona are phenomenal because they teach you to love wind. Up until that point I was going on lakefront. As a matter of fact, my longest ride was on the lakefront I went up and down three times.
Cindy: That's a pretty long ride.
Sharone: Right. And today we have other [...]. So that was an interesting day. But I was always trying to avoid the wind. And after my first trip to Kona you realize it's all wind. So that day I made the decision to fall in love with the wind. And just go against it as much as I could. And it's made a huge difference.
Cindy: That's is actually an interesting point and I bet that comes up a lot with the athletes that you coach, right? You might have this goal and then you're training to reach that goal. And when you're training sometimes you make a choice that makes things a little bit more comfortable or easier in that moment but maybe that doesn't quite prepare you as well for what you're going to actually face.
Sharone: Absolutely, and I think that's another thing. Talking about the being a kid personality. Go try whatever you feel, right. And sometimes, my daughter when she was in kindergarten, every time they needed to put the toys away she would run to the bathroom. You know, it's like very convenient. So, I think that's the approach I took with the wind going into this whole Chicago wind scenario. I think the more you change to rain, change weather condition, you learn a lot more. And then one of the elements that we really work hard on is really learning the races. What is the race look like, what the conditions are, what other conditions you might encounter. Maybe not, they weren't their last year. So for example, we always plan for hot weather and cold weather. You know, because that can change. I mean we had Iron Man Wisconsin, 55 and rainy and we had Iron Man Wisconsin at 95. So you have to prepare and that can change. I mean think about the marathon this year in Boston, a couple years earlier too. It was freezing cold. And this is one of the elements we really work on how to prepare for that. And we do go out in those conditions. I have a statement, I borrowed that from Hebrew, something we use in Israel. You're not made out of sugar. You've got to go out there and do it. If it's dangerous, yes of course back up. But if it's rainy, there's no reason not to train. You know, especially not in the summer here in Chicago.
Cindy: Well it's interesting too because it does take that combination of both the passion and the energy and the excitement of the child plus like the logical grown up planning brain too, right? And I imagine you put those both together when you have athletes training.
[18:51]
Sharone: Of course. So the planning part really goes with systematic planning. I mean this is what we do with everyone. There are certain volumes that we have to hit at certain time during the season. And certain time you just reduce the volume to almost none. And focus on race pace or high intensity stuff. I think as endurance athletes we don't do enough of high intensity and we lose that element. Although high intensity intervals. I dare say cross-fit style training will work really well for us. Because we do need to use those high end muscle fibers or energy systems. My story, I used to play basketball and soccer because I really loved running after the ball. And my first year in Iron Man, I basically did times that it was hard for me to break until my third year. Again, because I came into the sport with fitness that no endurance athlete has which is the basketball fitness, the stop-and-go fitness, which is all your joint basically. And the high end energy system which you do in basketball and soccer and don't really touch in endurance sport. So I had no problem running PR every half marathon I did within a half Iron Man. Which was faster than my only half marathon times. But then you lose that and it took me, I had to spend another two years to gain that back. So just to say how important that high-end exercise and how team sports conditioning could benefit endurance athletes. And we're afraid to touch on it because it's not in the protocol. I actually talked to one of the more known coaches, run coaches in the city. And I talked to them about a certain training method. We're runners, we're not doing that. And that's I think sometimes where the problem is. When you're so tight into that modalities that you really don't gain that extra edge, I would say. That maybe have you PR'd. And we can talk about that maybe later.
Cindy: Yeah, right.
Sharone: About people PRing with different modalities.
Cindy: Right, you get really focused on what you're doing. So for you though, how did that feel? And when you kind of started in the sport and you were doing really well because you had that fitness background. And then you realized okay, wait. And it took longer to get back to that point. How did that feel? And how did you manage that?
Sharone: I think the second year of Iron Man racing was really. It wasn't devastating but I was really surprised with what happened. I had more experience, I trained more. I probably trained smarter when it comes to endurance sport. But I lost that high-end fitness. And I was frustrated and I didn't know what was going on. And then, you know, I said let's go back to and analyze what was happening. And then I start to add some stuff. So I start to add playing soccer in the off season. So I gained that fitness in the off season. As long as you don't get injured. You know, you're fine. You know, during a lot of work with a basketball. You're a lot of change in direction, not necessarily playing because that's really hard on your body. Especially as you get older, you know. But I start to incorporate those things into my plan. Not necessarily on a weekly basis. I added a lot more variety into my track workouts. A lot more variety into my bike workouts. That are not necessarily the template of the regular endurance sport. You know swim, bike and run.
Cindy: So, I mean this does lead into another question I was going to ask you. Which was, you've worked with so many endurance athletes through the years. What do you see as some of the most common obstacles to endurance athletes achieving their goals. And it sounds like maybe one of them is kind of a narrow mindset or not being open to these other modalities and other ideas that might benefit them in their sport.
[23:07]
Sharone: I think if they start here then they're already used to it. And I think in trying to draw them in and see that for someone who has experience. And they said well if I hit these three elements, goals in swim, bike and run then I'm set. And I don't think that's usually the case. It's much harder to get them into looking at something different. And it's the same thing with the coaches. Coaches work in a certain way and they have a certain level of success. Sometimes you need to add something else into the element. For example, the first thing is strength training. More conventional. Not just working on the core and the stability. And I think this is like all of a sudden strength training because core and stability. Which is important but what about strength. Absolute strength. You know, doing a squat. You know, year round. Things like that. So again, going back if it's our athletes it's not so hard. The other element is that people need to surrender to the training plan, I call it. Not to overthink it. And sometimes just go do it. While doing it you have to be present and really absorb what you're doing. But you have to surrender to it. Many times, and that's one of the things that we did really well is that we took an individual sport and we made it a team sport. And we do it at Well Fit all the time. We have a team of people that all compete individually but because they work together rather than lonely at their basement. They actually achieve greater success. Everybody pushes each other. Everybody supports each other. One of the elements with these people is how to reduce the competitiveness during training and really focus on what you do and who you are. Get the support from your fellow athletes without mentally get devastated when this guy is so much faster than you are on the track. But you're faster than him in the swimming pool. Or things like that. The other element is how lifestyle, how your life gets in the way of your sport.  And I'm sure a lot of athletes can relate to that. This morning I sat down with an athlete, phenomenal athlete. And she's preparing for the 70.3 World Championship in South Africa in a few weeks. And also life going sideways and everything is overwhelming. Everything, work and training. So we sat down and we just started to move things around. And fix and even let go of some of the workouts. You know what, you don't need that. Let's just focus on these elements and do that. And sometimes the athlete gets up from their seat and says wow. That's really helpful. And sometimes, I don't know if I'm going to be ready if we're going to do all that change, you know. I mean this is the kind of program, course we set up. Now I'm starting to take stuff out and that can be very demotivating for them. So.
Cindy: But I do think that, that's so huge. And you see athletes struggle with that for sure. That you know, you're body is one system and it can absorb only so much stress from any source. Whether it's your training or your life. And that is where having a coach and as you say, kind of surrendering to the process or trusting in that individual to guide you through that and adjust. That's where that's really important, right? I'd imagine that's something that the athletes here really benefit from.
Sharone: Right, and here's the thing. Going into some of the things, there's a huge trend right now of online coaching. And I think that will work only if there's a conversation. Not an email, a conversation. In my mind, a conversation between the athlete and the coach on a regular basis. Or/and seeing the athlete. And that's why I love the training facility because so many of the athletes that we coach actually are coming and training here. So even if I don't coach them per-say on every individual workout. I get to see them. I see how they look. I don't even have to talk to them. I see how they look, I see how they walk, I see how they interact. And I definitely see how their data looks like and I can that's a lot more. Many more tools that I can use in order to coach the athletes. We try to do send and forget kind of programs. I just don't believe in it. It's not that people can not. I think experienced athletes can do that, highly motivated athletes can do that. I just don't think that this is good for the beginner athletes. To have a program somewhere online and have an email every now and then. I think there's got to be more interaction to coach somebody. It's an active, not a passive event. And I think this is where the facility comes from. The other element of what we did here is secured a community. A family. We [...] changes forever. Once a Well Fitter always a Well Fitter. Whether you like it or not.
Cindy: Yeah. That's great. Well no, I know that's such a huge element. As you say, it can be all three of these sports and any endurance sport can be a lonely endeavor if you're out there training for yourself, by yourself. So it is great to have that support system. For sure. So, you know, when I came here and visited you a couple weeks ago. We were chatting then too and you talked a little bit about the kind of athlete that might be a good fit to be coached by you. And the kind of athlete that makes a good Well Fit athlete. Tell me a little bit about what you're kind of looking for or what makes a good fit for someone here. Like could anyone come here and have success or are their certain qualities that make this a better kind of a facility for some people than others.
[28:55]
Sharone: So it's funny, many. Back I think in 2007, we created the first elite training program. It was the first of a kind in the country and what we did is we saw a lot of programs for beginners. Where you train together and you get the support, you get the coach. But there was no training program for elite athletes, people that already performed really well. I worked with the US triathlon program, initial program for a few years. And I realized that if we compare ourselves to the European. European has a huge pipeline because everything there is club teams. In the US we didn't have club teams. And the recruitment for the training program was through the universities. And usually if you're a great swimmer but not qualifying for the Olympic and you can maybe run, then we'll make you a triathlete. That was kind of the agenda. So I created the first elite training program here in Chicago. And that kind of gave us a bad name. Because here we are coming with the elite program. Which the name was Well Fit Elite which was another bad problem. Because they associate that with, you know, the other things that we do. And we're going to a race and all of a sudden Well Fit Elite take the podium for every age group. And the notion was Well Fit was only for fast people. So I said no, no, no. We are making people fast. That's what we can do. What we realized is that people that come here and get the most benefit are people that care about their results. If you just want to do one triathlon, we can help you. If you want to get the full benefit is you need to care about your performance. I think this is when you're going to get the most when you come here. Many, many times we heard that we charge too little because of how we deliver the program and what the level of the coach is. Not to say that other programs aren't good. There's definitely a fit for everything. And the more program we have the better it is for the industry. If you care about your results, you want to improve. Whether you just started or you're already this is the place for you. We always think about, what is the cutting edge training routine that will get you there. We started [...] about training on bike trainers back in '99. We did track workouts before, I believe, any other marathon program back in the early 2000s. We opened a facility before anybody else for endurance sport that encompass all of the element. That's the way I think. And then we created the community. And it's not that simple. And go back to goals, that was not necessarily my goal but that was my passion. And it become what it is today. People tell me look what you've created. I say what are you talking about. To me it just is.
Cindy: Yeah. It's the building years. So you have the strength training facility here. You have the bike trainers, new bike trainers, right. Brand new Bikram. You have all of the training programs. So triathlon programs, elite and non right. And marathon training programs too. And then the altitude room. So tell me more about that and how that is helping athletes achieve their goals.
[32:22]
Sharone: So it's interesting, I was bored. Truly, we've been doing it for almost 20 years. And I was like okay, there's a lot of people that do that now. There's a lot of coaches and there's a lot of people with studios. And I had to do something a little different that would excite me and maybe benefit the athletes. And what we did, we updated the bike room. So now we probably have the most sophisticated bike room in the country. Where everyone has their own personal screen. Touch screen with their own programming. So they can tap into our entire, probably more than 400 workouts. And do it themselves. They can create a pool workouts that their coach give them. Whether they're a Well Fit coach or not a Well Fit coach. But then if they're bored and they want to do the group workout they press a button and they go into the system. And they see everybody around. And it's all on their private screen. And if they want to watch Netflix while they're working out they can do that too on the screen. So that was the upgrade. We took another 2,000 square foot and we put it in there. The next thing was I needed to do a game changer. And for many years, since the mid 2000s, I was thinking there was more to altitude then just going up in the mountains and training. So I did a little bit of investigation and I realized that Australia has 16 altitude training centers. England has six. US had 5. I've been to 3 and only 1 of them does something with it. So I decided that's it. And we opened the altitude training center. There's such enormous benefit to training at altitude, at high intensity. If I say one sentence about it, you train less and you gain more. I mean who doesn't want that. And since February we had many athletes train there. They are crashing their PRs on a regular basis. They're winning. They're going to a race, do an Iron Man and then a week later PR the half marathon. It's just unbelievable. I'm a little bit, oh my god. What's it, what's in the air, you know. There's a lot of science behind it. There's a lot of research behind it. And like anything else that is so great. Like for example strength training. Back in the '70s the conclusion was that strength training does not help swimmers and runners because it interferes with their coordination. Now we can't even think about doing any kind of sport without strength training. Same thing happened with altitude training, similar to altitude training. Up until I believe 2006 was the first breakthrough research. [...] the only way you can benefit is to go in the mountains. I mean, the answer I was getting from people was yeah, live high, train low. The funny thing about this is there was only one research back in '95 that proved that in Salt Lake City. It's still the gold standard. But how many people can actually do that? And we brought it to the everyday person. We brought the altitude into the everyday person. And we have workouts that are as long as 25 minutes or about an hour. We have nothing over an hour. You don't need to be there over an hour. If you actually do something over an hour in there, chances are you're not going to get as much benefit. So I'm excited as you can see. Right, so the recommend that depending on how much time you have. If you have limited time, we tell you need to be there twice a week high intensity workout. Replace the high intensity workout you have on your program right now. Don't add it to it. And then do it about, up to about a week before your race. The benefits last for about 2 to 4 weeks depending on, you know, who you are. And look at the benefits a little by doing a maintenance program. But the people, some of the people we coach here have been in the room twice a week since February. And let's just say this if you're at more than 4 weeks, go for 1 to more than 4 weeks. Just be there, use it as part of your plan. The biggest market that we're are actually getting into is mountaineers. We are getting a lot of people are going to Kilimanjaro. People that go to any kind of mountain around the world. Whether it's a big hike or a technical climb. They come here and we have a testing protocol for them. And we have a training protocol for them. Or they're just, I just want to do my own thing in the room.
Cindy: Yeah, one of our co-hosts on this podcast, Kristen Geil, climbed Kilimanjaro last year. And I think she found out about the altitude room right before she was going to leave. So she's like, ahh, I didn't have time but she would have loved to incorporate that. Well that's great for those athletes and I would imagine too. I mean when I think about it, you know, with my training. I've been marathon training for years now. Even just the idea of having something new and exciting like that is appealing, right? And something that gives you an extra edge. So I would imagine that does feed back into your goal of engaging people's emotions and passions a little bit too. How does that kind of fit together? You know, using that new technology does it help with emotions in that way.
[37:42]
Sharone: Absolutely, I think one of the things about this trending routine because it's such high intensity intervals. That's what we want to do. We want to trigger the high-end of your fitness in altitude so you actually get two workouts in one. And it's definitely bringing something new into the endurance sport. The endurance sport you have to have your pace. You have to make sure it's tempo and tempo, and 5k is 5k, and 10k is 10k. And here we bring you into a room and says no you're going to run at 5% elevation for 30 seconds as fast as you can. It's not a 5k, it's not a 10k. You're going to get on that bike and you press that lever to level 10 and you spin as hard you can for 10 seconds. And you might do it 15 times. Now 15 times of 10 seconds. About 2.5 minutes of a workout that will give you benefits in 4 week `that you won't gain in a year in training regularly for an hour to an hour and a half for that period of time. There is a lot of research compare protocols like this between doing it in an altitude and not altitude. And you see it, it's like 25% difference. 25-35% difference in benefit between doing the same thing outside and inside. And it's phenomenal. It's great. It brings in, people want to try it, people want to try it. We are pioneers in this and I think once people see the results. And it takes about two weeks to start saying, hmm something is clicking. Like for example, I was working very hard on that 10 second sprints but two weeks later you realize they're recovering a lot faster between those sprints. So you can maintain the power output. Not just get to it and go down. Or you can go and bike another 45 minutes outside of the bike room. So within 2 weeks you can see that. In 4 weeks you can start seeing performance benefits like in races. One of the biggest things we've heard is that the hills are getting flatter. Meaning we don't lose as much pace going up the hill. And then we have a lot more power towards the end of the race. So we feel a lot stronger finishing the race. I'm not going to give my example from this last weekend. Or maybe I should. So I raced in Santa Rosa. They cancelled the swim. And so we started a time trial and my last section which was about 10 miles was the fastest on the bike. Fastest 10 miles on the bike of the entire race. And it's not that we all of a sudden got wind that pushed me. It was significantly faster by like 3 miles an hour, faster on the bike. And I think, I believe it's only due to the training in the altitude room. I came into the race with very little volume. So I can't say that my training was perfect. What I did focus on is purely going into the room twice a week. And I can see that also riding with my friends. All of a sudden then don't drop me like they normally do.
Cindy: Well that does lead into the other question we have on We Got Goals which is about your goals for the future. If you had to name one thing that you kind of have your sites set on, it could be a personal athletic goal, it could be a goal with the altitude training room or how many athletes here you want to help. What is a goal you have for the future and how do you plan to get there?
Sharone: So can I have two goals?
Cindy: I suppose you can. We'll allow it.
Sharone: So you know one of the things as a coach that came from being an athlete is one of the biggest challenges I had. Especially with this operation we have down here. Is how you see the athlete that you coach. In the beginning they're becoming at your level and then they're surpassing you because of a lot of different reasons. And one of them is because you lose fitness. And one of my goals is to go back to training on a regular basis so I can go into a race and enjoy racing it. I mean I still race but it's I need to train more. So that's one goal to just get back into being an athlete again. The second goal which is probably more important these days. It would be what am I going to do with a business. And my goal is to incorporate this new concept onto training. Encompass in a training facility like we have here into more locations. Make it a part of people's routine. Make altitude training a part of coaches and athletes template for training. And we do a lot of work with this at this point with a lot of lectures. With a lot of open houses. We just started a beta program. This is phenomenal. I'm so excited about this. It's basically invited, we sent application out to ask people to apply for that beta program. And the beta program basically is a six week program where we take people from different levels, beginner athletes, advanced athletes, cyclists, and triathletes, runners. And we walk them through the training plan and we have baseline training and then post intervention training but testing. And we're so excited we have 12 athletes and 1 junior athlete that are participating. We had more than 50 applicants. And we had to choose. It's hard to say who can not go. But one of the early programs that we did is exactly the program we're delivering in this beta program. We had a marathon runner, she was stuck at 3:45 for 9 marathons. She did 4 weeks in the altitude room, 2 sessions a week in her approach to her marathon which was a spring marathon. An April marathon and she PRed by 9 minutes. Now we know that in Chicago spring marathons are not usually the best marathon you're going to have because it's very hard to train. She PRed by 9 minutes. And now she's not thinking just breaking that 3:45 but Boston. So I'm excited to see how these athletes, what the benefits are. Some of them are going to world championship in triathlon, some of them are going into the marathon, some of them are doing some ultras, so I'm excited.
Cindy: Yeah, well and that probably fuels your own goals as an athlete to. I mean it must be hard to carve, especially when you have this new kind of venture that you're trying to get off the ground. It probably is hard to carve out that time for your own training. How is that going to look practically for you? Are you going to block more time for it or what are some of the ways you're going to make that happen?
[44:35]
Sharone: It's simple, I think I already answered this. Surrender to the plan. It is, it really truly is surrender to the plan. I have a plan, I write my own training program. Sometimes it's a little bit unrealistic but I make the adjustment. But once it's there surrender to the plan. I'm [...] a little less which gives me a little bit more time. But there's always something to do. You sit down and the list is from here to nowhere. You need to first of all find the time that is most comfortable for you to train. For example, I'm an afternoon kind of guy. Not necessarily a morning kind of guy. Sometimes I have to train in the morning. But I train in the afternoon. So I do all of my work until 2:00/3:00.  All my long runs are done at like noon. I go to lakefront at noon, people think I'm crazy. I don't mind, I get a good tan out of the workout. But I think fitting it to where it fits best. And I think when you come to work at some point, the brain stops working. And that's the point where you instead of fighting it, you get up and do the thing. And then you come back and you're a lot fresher. And you can have a little more sense in your answers and a little more sense in your emails and a little more sense in anything else you do.
Cindy: Surrender to the plan. I love it.
Sharone: Exactly, that's what it is. Yeah.
Cindy: Well this has been such a great conversation. Thank you so much for joining us today. And We Got Goals really appreciate your time.
Sharone: Fantastic, thank you.
Cindy: He goal getters, Cindy Kuzma again here. Just checking in to let you know that you're about to hear a goal from one of you, our listeners! If you would like to share your goal on the We Got Goals podcast, we would love to hear from you. All you have to do is record an audio memo or mp3 wav file. Email it to me at Cindy@aSweatLife.com. And you could be featured here on an upcoming episode. Thanks so much for listening and here is one of you with your goals.
Mariah: I'm Mariah Boyd from Chicago, Illinois. I have found that just telling everybody in my life, big people, small people, random acquaintances my goal has really helped me stay accountable. I made a New Years goal this year to reduce my paper towel use at work and I told a random friend of a friend. I saw her five months later and she said hey hows that paper towel goal going? And I said, I completely forgot I set that goal. And so just her bringing it back up made me refocus on the goal and I have successfully reduced my paper towel use. Environmental issues are a really big thing for me. And I'm a dentist so I wash my hands a thousand times a day. So I just know I'm throwing away so much paper and it really kind of affects me and makes me feel bad. So trying to eliminate that as much as possible has just made me feel better about myself and my impact on the environment.
Cindy: This podcast is asweatlife.com production and it's another thing that's better with friends. So please, share it with yours. You can subscribe wherever you get your podcasts including now on Spotify. And while you're there if you could leave us a rating or a review we would really appreciate it. Special thanks to Jay Mono, for our theme music, to our guest this week, Sharone Aharon, to TechNexus for the recording studio, to our editor this week Kathy Lai, and of course to your for listening.