Top Advisor Marketing Podcast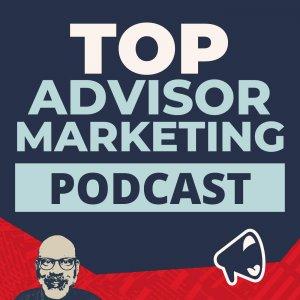 Latest Episodes

July 18, 2023
David Auten and John Auten-Schneider started Queer Money Podcast almost 10 years ago to fill a need. No one was talking to the queer community about finances.

July 11, 2023
When you dare to show who you are and operate from an abundance mindset, new opportunities have a way of showing up.

July 04, 2023
You might be posting on social media, but are your ideal prospects actually seeing any of it? If not, its going to be tough to build relationships with them.

June 27, 2023
Youve probably heard about the positive impact niching can have on your business. But maybe youre still hesitant to niche. Wont it impact your potential revenue?

June 20, 2023
Emotional intelligence includes the ability to spend most of your client meetings listening not talking. If that sounds like a tall order, consider this: Emotional intelligence is a muscle that you

June 13, 2023
Are your marketing strategies failing to produce the results you want to see? Are you worried you are wasting time and money on things that arent bringing your business growth?

June 06, 2023
If youre like the advisors we know, you enjoy continuing education because it equips you to help more people. But you dont love the time-consuming admin work that often comes with. Or sitting throug

May 30, 2023
If you are not jumping out of bed energized every week by the work youre doing as an advisor, chances are your time is being misallocated. Tons of advisors develop burnout or a lack of motivation in

May 23, 2023
While many businesses are passed down or built with inherited money, thats not the case for what Andrew McIntosh calls the 1st Gen Entrepreneur. First-generation entrepreneurs face more unique challe

May 16, 2023
As much as some advisors hate to hear it, the age of the hard sell is over. Your prospects want a relationship, not a sales pitch. It's time to change how you present yourself online.