Top Advisor Marketing Podcast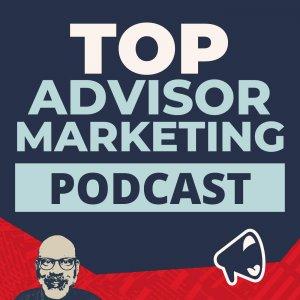 Latest Episodes

May 30, 2023
If you are not jumping out of bed energized every week by the work youre doing as an advisor, chances are your time is being misallocated. Tons of advisors develop burnout or a lack of motivation in

May 23, 2023
While many businesses are passed down or built with inherited money, thats not the case for what Andrew McIntosh calls the 1st Gen Entrepreneur. First-generation entrepreneurs face more unique challe

May 16, 2023
As much as some advisors hate to hear it, the age of the hard sell is over. Your prospects want a relationship, not a sales pitch. It's time to change how you present yourself online.

May 09, 2023
As an advisor, you guide clients to do the right things with their money and mindset. And it's no coincidence that the ones who listen have the most optimized wealth. Imagine you applied this exact s

May 02, 2023
Imagine you could hop into a time machine and go forward 5-10 years in the financial services industry. What do you think youd see?

April 25, 2023
If youre like the advisors we know, you want to meet more of the right clients. But how? By increasing your influence and referrals.

April 18, 2023
Between 65-70% of young inheritors leave their parents advisors because that advisor made little or no effort to engage with them. What holds advisors back? Not knowing how to connect and build rela

April 11, 2023
Innovations are radically increasing life expectancy. If youre alive in 2030, odds are good that you'll live to be 100 or older. Are you planning enough years for your clients? Most advisors arent.

April 04, 2023
If youre like the advisors we know, you want to impact your clients lives. Have you ever considered helping them connect with their children on a deeper level?

March 28, 2023
Imagine giving your clients an experience theyll remember forever. Something fun and unlike anything theyve ever done. How would that change your relationships?