The Race to Value Podcast
Ep 183 – The Plasticity of Primary Care: Meeting Community Health Needs in the New Value Era, with R. Shawn Martin
September 18, 2023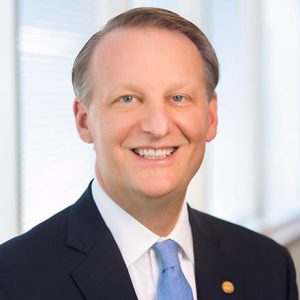 The plasticity of primary care, in the new value-based era, embodies remarkable adaptability, innovation, and responsiveness to evolving community health needs. As our understanding of health and well-being expands, primary care stands as the first line of defense, ready to transform and customize its services to address the unique challenges faced by diverse populations. This flexibility allows primary care providers to pivot swiftly, whether it's in responding to public health crises, addressing disparities in healthcare access, or integrating innovative technologies into daily practice. In embracing this plasticity, primary care not only becomes a cornerstone of community health but also a powerful catalyst for positive change, driving us closer to the goal of a healthier, more equitable society.
In this week's episode of the Race to Value, we are joined by R. Shawn Martin, Executive Vice President and Chief Executive Officer for the American Academy of Family Physicians. The AAFP is the medical specialty organization representing 129,600 family physicians and medical students nationwide. Shawn Martin works with the AAFP Board of Directors on the mission, strategy and vision for the AAFP and provides representation to other organizations, including medical, public, and private sectors. He is nationally recognized for his thoughtful leadership on a range of healthcare and workforce issues. While his career portfolio has focused on numerous health care and public-policy issues, he is best known for his extensive work on the development and implementation of primary care delivery and payment models.
In this episode, we discuss such things as payment reforms in primary care, the industry impact of primary care consolidation, physician-led ACOs, the new Making Care Primary (MCP) payment model and the need for multipayer collaboration, health equity, rural healthcare transformation, physician workforce challenges, and the future implications of AI on the medical profession. With leadership from Shawn and his constituents throughout the primary care ecosystem, we are well-positioned for transformation in the race to value!
Episode bookmarks:
01:30 The plasticity of primary care and how it can evolve to meet community health needs in the new value era.
02:30 Introduction to R. Shawn Martin, the Executive Vice President and Chief Executive Officer for the American Academy of Family Physicians.
04:45 People who have access to advanced primary care tend to have better health, receive timelier diagnoses, and get more prompt treatment when it is needed.
05:30 The U.S. spends only 5-7% of its healthcare dollars on primary care — less than half of the 14% average in Western European countries.
06:00 AAFP Advocacy Priorities:  Fighting for Family Medicine!
07:00 Shawn discusses the need for additional investment in primary care at a national level.
08:30 The misalignment of fee-for-service in the primary care setting.
09:00 "Appropriate investment in primary care, coupled with a prospective payment model, will transform both patient experience and care team performance."  
09:45 PCP Infrastructure Investments + Rapid Transition to Value-Based Care = Primary Care Transformation
10:45 Vertical integration of primary care can lead to higher prices and costs, including insurance premiums, without improving care quality or patient outcomes.
11:30 Site-of-service payment differentials create uneven playing field between independent practices and hospital-owned primary care.
12:00 Shawn's congressional testimony to the Senate Finance Committee on the "Consolidation and Corporate Ownership in Health Care"
13:00 The Medicare program created siloed benefits between hospitals and physicians, and these design flaws created incongruencies in system economics and patient health outcomes.
14:30 The inability of independent physician practices to survive on the regulatory framework of the modern healthcare system.
15:30 Community-based primary care innovation empowered by partnerships.
16:30  The explosion of IPAs and clinically integrated networks and how these models are applied to population health management.
17:00 Data sharing and interoperability empowering chronic care management and transitional care pathways.
17:30 The trend of provider consolidation within "payvider" platforms offered by major payers (e.g. Optum, Centerwell).
17:45 Wall Street interest in primary care that led to additional capital infusion in the absence of public payer support.
18:30 "Private equity investment has created a necessary lifeline of capital for primary care to survive the onramp of value-based care."
19:00 "It is difficult to focus on primary care transformation when you are seeing 30-35 patients a day, 6 days a week, for 48-49 weeks out of the year."
19:30 How investments in primary care created the physician mindshare needed to transform their practices.
20:45 On average, physician-led ACOs produce almost 7 times the amount of Medicare savings per beneficiary than hospital-led ACOs.
22:45 Shawn discusses how the autonomy of physician-led ACOs leads to them having better Shared Savings results than their hospital counterparts.
23:00 "The empowerment of PCPs with the autonomy to be patient-centered at the point-of-care has shown what is possible with value-based care."
24:00 "The challenging occupancy-dependent model of hospitals is not insurmountable if you create collaborative, community-based physician networks."
24:45 Overcoming the toxicity of fee-for-service in primary care.
25:00 "Primary care is built upon the foundation of a trusting, longitudinal relationship between a patient, their caregivers, and the primary care team."
25:45 Leveraging virtual care and telemedicine to enhance relationships in the primary care setting.
26:00 "The combination of primary care autonomy with risk-based payment models will help us overcome the toxicity of fee-for-service."
26:30 The new state-based multi-payer model from CMMI, "Making Care Primary" (MCP), supporting primary care practices in the transition to prospective value-based payment.
27:00 Recent AAFP Press Release: "Primary Care-focused APM Checks AAFP Advocacy Boxes"
27:30 Shawn discusses how the multipayer MCP model construct (Medicare/Medicaid) will serve to eventually bring value to primary care at scale.
29:30 The rationale behind making MCP a 10-year transformation project (instead of a 3-4 year evaluation cycle).
30:00 The imperative for CMMI to transition providers to more sophisticated payment models with downside risk over time.
31:00 Referencing Shawn's recent article: "How Moneyball can teach us to invest in primary care"
32:00 A recent AAFP member survey that indicated while 85% of surveyed physicians believe social needs are directly related to poor health, 80% are not confident in their ability to address their patients' social needs.  
33:00 Inspiration from Michael Lewis regarding the applicability of Moneyball in healthcare transformation.
34:00 "The single best investment to improve health equity in our system is primary care. It is a main street discipline of care in our communities that is not confined to a building."
34:30 The plasticity of primary care to meet community health needs and why equity must start with empowered, community-based PCPs.
35:00 The AAFP formed the Center for Diversity and Health Equity to address social determinants of health with The EveryONE Project.
35:30 "You cannot even begin to change the trajectory of health inequities in our health system without primary care."
36:00 Meeting the workforce goals having access to primary care in every community.
37:00 Mortality rates are 23% higher for people living in rural communities than those who live in urban communities.
38:00 "The movement to prospective, capitated payment models is nowhere more important than in rural communities."
38:45 How trusting relationships and localized interventions drive patient engagement in rural communities.
39:00 Shawn shares the lessons learned from his father who was a primary care physician in a rural area.
40:00 The relationship between the physician workforce and critical access hospitals and the opportunity to reinvent the rural healthcare ecosystem.
41:30 Physicians have higher levels of satisfaction when practicing in a value-based environment.
42:30 U.S. health is threatened by a primary care workforce shortage, and the country will need up to 48,000 more primary care physicians by 2034.
43:00 Shawn shares his perspective on the physician workforce and the how the AAFP is working to ensure that we have an adequate physician workforce in the decades to come.
45:00 The "infatuation of specialization" that favors procedural intensity.
46:30 The multi-faceted roles of primary care are not fully understood in medical schools.
47:30 How specialty economics contribute to the shortage of primary care.
49:00 The transformative potential of AI in family medicine.
49:45 AAFP recently adopted a policy on the "Ethical Application of Artificial Intelligence in Family Medicine."
50:30 The need for transparency in the development and implementation of AI in healthcare.
51:30 How AI can be used to reduce administrative burden in primary care practices (e.g. documentation, prior authorizations, utilization management, chart reviews)
52:00 Using AI to decompress the knowledge management of specialization in medicine in order to support more comprehensive primary care.
53:00 The future of AI-enabled, comprehensive primary care.
53:00 Empowering patients with AI through lifestyle-based knowledge transfer and improvement of health literacy.
55:45 Parting thoughts of optimism on the future of primary care and how the value movement will drive us to improved population health.
58:00 The presence of primary care increases life expectancy.
59:00 Stay connected with Shawn on social media and find out more about the work of the AAFP.
---
Download Episode