Tend HER Wild Podcast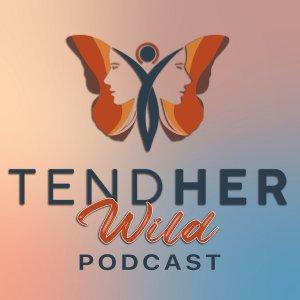 71. Dropping into Radiant Rest with Tracee Stanley
June 23, 2023
Today we are joined by Tracee Stanley, author of the best selling book, Radiant Rest: Yoga Nidra for Deep Relaxation and Awakened Clarity and of the upcoming book The Luminous Self: Sacred Yogic Practice and Rituals to Remember Who You Are.  We explore the transformative power of yoga nidra, its connection to the feminine, creating spaciousness, rest, and ancestral healing. Uncover the profound wisdom Tracee imparts on the importance of nature, the value of deep relaxation, and the divine creativity that emerges from embracing stillness.
Today we discuss:
Tracee's first ten years being raised in a strict, overprotective home where freedom was limited, but education and space for daydreaming, reading, and learning were emphasized

The importance of Tracee's Nana, and what she learned by observing her power and ability to hold space for others

Tracee's first experiences with Yoga Nidra, and how it evolved, including her awareness that Yoga Nidra was "the Goddess"

The power of ancestral healing, and how to call in the ancestors that are well in spirit

How Tracee views "re-wilding" in her book Radiant Rest as taking the practices directly into nature.  Practice and nature are not separate, and we are not separate from nature.

The benefits of committing to more time in rest

"Since the invention of the lightbulb it has disconnected us from the cycles of nature.  When we start resting we can start to connect to our own nature, which is nature and that in itself is healing." -Tracee
Bio:
Tracee Stanley is the visionary behind Empowered Life Circle, an esteemed community and sanctuary that embraces transformative practices, sacred rituals, and profound Tantric teachings and has over two decades of dedicated exploration in Sri Vidya Tantra and the wisdom imparted by the Himalayan Masters.  Tracee has also emerged as a leading figure in the realm of post-lineage instruction. Her unwavering commitment lies in imparting the profound knowledge of yoga nidra, meditation, self-inquiry, rest, communion with nature, and reverence for our ancestors. Tracee possesses a unique gift for unveiling the magic and power hidden within the realms of the liminal, while effortlessly weaving devotion and practice into the tapestry of everyday life.
To learn more about Tracee: https://traceeyoga.com
Instagram:  @tracee_stanley
To order Radiant Rest: https://www.radiantrest.com
To pre-order The Luminous Self: https://www.amazon.com/Luminous-Self-Practices-Rituals-Remember/dp/1645471667
Householder's Flow: https://traceeyoga.com/media-interviews-articles/2021/7/16/accessible-yoga-radiant-rest-yoga-nidra-for-deep-relaxation-and-awakened-clarity
Today's episode sponsored by:
Kate Moreland coaching: http://www.katemorelandcoaching.com
Heartland Yoga: http://www.heartlandyoga.com
Dr Yoga Momma: www.dryogamomma.com
Join Betsy at Ballymaloe House, Ireland
September 24-30, 2023
https://www.oneyogaglobal.com/ireland-with-betsy-rippentrop/
---
Download Episode