The Prussman Hour on Radio Misfits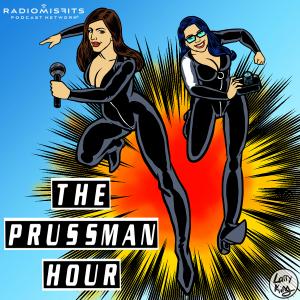 Latest Episodes

May 16, 2020
The ladies of The PRUSSMAN HOUR were joined today buy Rob Saul of The Rob Saul Show and Michelle Tomko an amazing lady and hilarious Atlantic City comic. @robsaul @tomkomedy [EP114]

April 24, 2020
The Deprussion hour, Stacey and Angela talk about their frustrations. Angelas transformation, Staceys anger, Myrna revisited. Sex during Quarantine and more!!

April 01, 2020
Stacey and Angela discuss life in quarantines, push up challenges, yoga poses, Stacey beach dissatisfaction, memories of fun times and the last fun times before Corona hit hard and more. [EP112]

March 18, 2020
Stacey and Angela have a disagreement about the value of a flawed weight loss contest. They are both frustrated and concerned. They discuss #GabrielHernandezstory Stacey and Angela are in rare form. #coronavirus #covid19

March 18, 2020
Stacey Prussman goes 1 on 1 of in 'Deep with Stacey Prussman' aka (the half hour Prussman Hour) the first guest is Barry Ribs! They discuss the "growth" of his career, his first sexual experience, sharing Tuna sandwiches, yuk yuk porn and more. [EP1]

February 27, 2020
The girls talk about Staceys recent trip to Philadelphia, Angelas weight-loss contest, Staceys upcoming trip to Los Angeles and much more. [EP110]

February 12, 2020
Stacey and Angela talk about the state if their affairs. The discuss the #Oscars, Angela s newest weight loss contest, Stacey's upcoming shows and more!

February 04, 2020
Stacey and Angela get together and talk about their #superbowl weekend. and whats been going on last few weeks Stacey is still seasonally depressed. Angela is doing yet another weight loss Challenge. Shakira is Staceys spirit animal. Stacey known affec

January 23, 2020
After a long two week hiatus Stacey and Angela are back! Stacey talks about Her issues of depression, Angela discusses her date, the girls discuss music, how Stacey emptied a bar with her Jukebox choices and the girls argue in their usual fashion.

January 08, 2020
It's a post 8th Annual Jersey Fresh Comedy Show Prussman Hour where the girls are joined by special guest Geno Bisconte and they record in Geno and Angela's hometown in South Jersey. They interview some of the great fans who flew in from Minnesota, India