Quest for Truth by Life Truth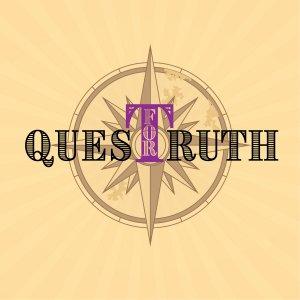 Latest Episodes

October 19, 2020
What does holiness look like? How can we hope to live a life, set apart for God? We take a survey of a few things to avoid, found in Leviticus. Don't worry, there's plenty of positive practices that put believers on the right path -

October 12, 2020
Our special guest who couldn't make the show from 2 weeks ago is on hand. We touch base on those 5 basic questions that Keith and Nathan discussed But the main topic today is on what the Sunday worship experience is like for the disabled. Namely,

October 05, 2020
This wraps up a long chapter, probably the longest chapter in the New Testament. For some background, we review some high points in the events and Jesus's sermon about his being the bread from heaven. - Jesus fed 5000. He fled,

September 28, 2020
Here's a shortlist of questions, intended as conversation starters to ask people about God. - Do you ever get stumped on what to ask people about their beliefs in God? Maybe you have trouble in how to guide the conversation along?

September 21, 2020
Get to know another of the podcasters on the Christian Podcast Community. Eric Luphold has recently transitioned his podcast from Two Guys and the Bible to Governed by God. He shares how he got started in podcasting,

September 14, 2020
Our guest is a book author, youth pastor, sports writer, coach, and dad, Tyler D Smith. - Note: I have to apologize to listeners for the poor audio quality in the episode. We had to resort to low tech methods to record. -

September 07, 2020
Wrapping up our look at Jesus's sermon where he declares that he is the bread of life. Things go from the gentle claim that to eat of it means to not hunger for eternity. (Who wouldn't want that? Give us this bread.) To a more intimate commitment.

August 31, 2020
Our schedule is a little mixed up and delayed, but here's another installment in the adventure Luke finds himself in while writing to his friend, Theophilos. - Picking up with the scene where we left off last week, Luke tends to a patient.

August 24, 2020
The normally scheduled show is hijacked, and the invaders derail the topic into an audio drama. A crossover of our various show formats that include a past feature of the podcast, Retrobots. - Warning: This show contains Retrobots. -

August 17, 2020
What makes a good role model, and who can be one? Using a recent sermon from Nathan Caldwell, and various sources, Keith presents the need for parents to step up to the role, - Character. - What a good role model is: