Quest for Truth by Life Truth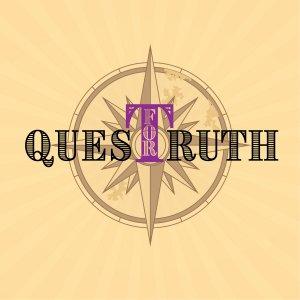 Latest Episodes

May 18, 2020
Keith interviews Troy Frasier, one of the hosts of the Revived Thoughts podcast. The show runs a bit longer than usual, but if you love history, theology, and the way God's word has a way of being timeless and relevant through the ages,

May 11, 2020
Due to technical difficulty, and a time crunch, Keith wraps up this 2 part series as a solo episode. Continuing to review what Jesus said, "If ye love me, keep my commandments" (John 14:15). After a quick revieew of some of the points we made in the pr...

May 04, 2020
Jesus said, "If ye love me, keep my commandments" (). But just what are these commands? - Today, Nathan Caldwell joins Keith Heltsley in the first part, of a 2 part discussion on top commands that Jesus told his followers to do.

April 27, 2020
In this spectacular miracle that gets mentioned in all four gospels, it's said the first miracle wasn't in the feeding of the crowd, but that a boy still hadn't eaten his lunch yet. Still, even the smallest of contributions go a long way. - Today,

April 20, 2020
In an effort to address common challenges to God or the Christian faith, Keith returns to respond to a few short clips from the world of Youtube. The presenters are not known by us, or the context of the lecture or debate.

April 15, 2020
Originally featured on the "Alive and Still Married" podcast. Keith resurrects the main topic from a show titled: When Your Spouse Changes - Alive and Still Married was a podcast hosted by Keith and Robin Heltsley.

April 06, 2020
Is the affect of the Corona virus on churches a Big Deal, No Deal or Little Deal? - After some opening remarks from Keith, and a couple items to open the dialog between  your hosts, we look into these 8 questions. -

March 30, 2020
In presenting himself to the religious leaders, Jesus used the kind of legal evidence that they should have been able to understand. He explained how, and why he performed the miracles he was rapidly becoming known for doing. - Getting started in ,

March 23, 2020
After the abrupt appearance of the religious leaders at the door, Luke's friend, the fisher, has been taken away for interrogation. Luke worries and paces, but is glad to have Tiberius rejoin him for more retelling of the early ministry of Jesus. -

March 16, 2020
What is the church? What should it be doing? Who is in it? - In this short solo episode, Keith shares a few points to describe 6 basics of the church. THE CALLED OUT BODY. Ecclesia. Greek for the "Called out ones," The church.