Protrusive Dental Podcast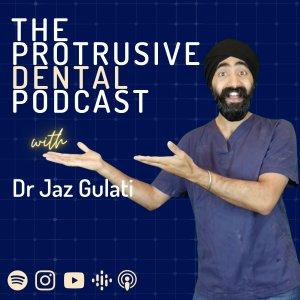 20 Years of Composite Excellence Part 1 – PDP119
June 22, 2022
A Restorative Dentist once told me, "Composites are like being married to a supermodel….sometimes you forget how good looking they can be!" – I had the pleasure of hosting Dr. Javier Quirós who shares his vast experience with composite veneers and restorative rehabilitation with composite resin.
https://youtu.be/D_ahHFXosqA
Check out this full episode on YouTube
Ready to learn the management of Bruxism and TMD online? Click here to enrol to SplintCourse
The Protrusive Dental Pearl: Check out this Casi 3C instrument distributed in the UK by Enlighten who are the sole distributors of Cosmedent Products. This is a non-stick instrument that provides a perfect curved shape that beautifully forms the palatal contours of your incisors. Watch this video below:
https://youtu.be/QDoD182j-DU
"It doesn't matter what material you choose, porcelain or composite. What matters are your beliefs, your morals, and your principles of treatment planning" Dr. Javier Quirós
Highlights of this episode:
7:32 The start of Composite Veneers

11:23 Which Type of Composite is Best?

14:07 Composite Veneers of Lower Incisors

17:39 Ceramic Rehab vs Composite Rehab

23:35 Composite Prep in terms of Occlusion

33:31 Minimum Thickness for Composites

38:26 Injection Moulding

43:44 Treating Toothwear with Composite

Stay tuned for Part Two!
Check out the upcoming courses with Dr. Javier Quirós!
If you enjoyed this episode, you'll surely love this Composite vs Ceramic with Dr. Chris Orr 
---
Download Episode