Protrusive Dental Podcast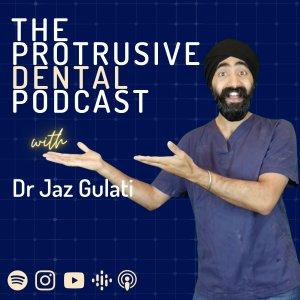 Dental Ceramics in 2022 – Which Ceramic Should I Use? – PDP117
June 04, 2022
Zirconia Veneers!? eMax vs LiSi? Which type of Zirconia should I use (and yes, there are 3 main types of Zirconia!) and is there still a place for Feldspathic veneers? These burning questions is why I brought on the OG: Ed McLaren. What Dr Ed McLaren does not know about dental ceramics is not worth knowing, and he gives it all away on this cracker of an episode which is sure to go down in Protrusive Hall of Fame!
https://youtu.be/ZR-V-ekhMv0
Protrusive Dental Pearl: How to mask a metal post? For me, a post-core is just a space-filler, it's a way to retain some sort of foundation/core restoration. I do not mind cutting it back a little bit – below I share a video of how to mask a metal core using Paracore White Opaque, to help my ceramist. You can also use an opaquer resin such as Ivoclar Direct Opaque – it's like Dental Tipex!
Want to download the 1 page summary of all the indications for free? Click here to access the download.
https://www.instagram.com/reel/Cd0P2mJqNUn/?utm_source=ig_web_copy_link
Enlighten Smiles sponsor this episode. I know some of you feel that we can't make composite look as good as ceramic. Well, you need to check out the work by Dipesh Parmar. His course is called Mini Smile Makeover where he teaches his techniques using Renamel Composite and other brands to give you some amazing results working with composite resin. 
Highlights of this episode:
11:07 Feldspathic Ceramic in terms of Patient demand and Dentist skill set

18:26 Shortage of skill set from Technicians in the future

20:41 Composite vs Ceramic Veneers

23:11 APC Protocol in Zirconia for Veneers

29:10 Posterior Zirconia Onlays

31:42 Decision Making regarding Biomechanical status of the patient

37:29 Ivoclar eMax vs GC LiSi

39:57 Different types of Zirconia

50:00 Restorative protocol for wear cases

Check out these studies as mentioned by Dr. Ed McLaren – if they are not showing up on your usual podcast player, be sure to visit the show notes on the protrusive website.
Influence of Enamel Preservation on Failure Rates of Porcelain Laminate
Veneers
Download
Check out the Hands-On Courses by Dr. Ed McLaren
If you like this episode, you'll also like Dr. Chris Orr's Composite vs Ceramic
---
Download Episode