Podcast Insider
Narrow Podcasting with Toby Goodman – PCI-291
April 21, 2022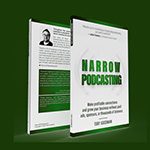 Mike is joined by Toby Goodman, who runs the Blubrry Pro Production for us. They talked about a lot of things going on in the news and some Blubrry news.  Toby even pre-recorded a Pro Tip and we answered the Question of the Week.  They also talked about his book Narrow Podcasting.  It was a great conversation. The show is a bit longer than normal but it is well worth the listen!
Thanks for joining us on this episode of Podcast Insider. Looking to be a guest on the show? Let us know. Emails are listed at the bottom of show notes.
Best Practice:
Use your best judgment for how long your podcast should be.
There are plenty of 'studies' out there that say 20-25 minutes is the optimal length of a podcast. But, we recommend that you figure out what works best for you, your content and your audience. You probably know your audience better than you think, you're most likely fairly similar if it's a common interest show. How long would you spend listening to an episode about your topic? Trust your gut and keep an eye on the Impactful Play and Retention data we provide in our stats to compare and contrast.
Blubrry News
MacKenzie and Todd are at NABShow in Vegas next week – Here is a map for where they will be:  West Hall NABShow

PowerPress 9.0.2 is out

Blog Post: Using Discord as a Podcaster by Jen Thorpe

Thanks for attending the Grow Your Show webinar with us and Traci's team with Produce Your Podcast. Those who signed up but were unable to attend will receive a recording in a few days.

Blubrry Pro Tip: Structure vs. Flexibility
New! The Pro Tip is 2-5 mins long and is repurposed as a stand alone podcast called podcast business coach and FYI gets 100% impactful plays!
Interview: Toby Goodman from Blubrry Pro and Author of Narrow Podcasting!
Question of the Week: Why should I pay for podcast hosting when (insert free host here) is free?
Answer: The old saying, "you get what you pay for" applies here.  But more than that, the "free hosts" out there do not have the features and tools that we have here at Blubrry.  Also, another old saying, "If you get something of value for free, you are the product," also applies.
Got a question you'd like us to answer on the show? Drop an email to mike@blubrry.com (audio, text, video) and we may use it.
The best place for support with any Blubrry products/services is our ticket system (https://blubrry.com/support/). Tickets give the whole team access rather than direct emails or calls.
______________
Coming to you this week from Toby's place in London UK & Mike Dell's World Studio in Traverse City, Michigan. Produced by the Blubrry Pro-Production team.
NEW! – Fill out our survey at surveys.blubrry.com/podcastinsider
Schedule a one-on-one with Todd (hosting customers only). Email todd@blubrry.com

Schedule a tech checkup with Mike (hosting customers only). Email mike@blubrry.com

Send us your podcast sticker and a self-addressed stamped envelope (SASE) and we will send you a Blubrry care package.

Our mailing address is:
Blubrry – MacKenzie

150 E. Campus View Blvd. #180

Columbus, Ohio 43235
---
Download Episode