Podcast Insider
Blubrry's New Statistics Are Here – PCI 282
February 17, 2022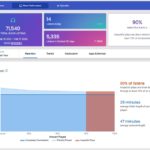 Have you taken a look at your Blubrry podcast statistics today? You'll find a whole new interface and for some users (advanced), a few new metrics. Many of you know we've been working on this user experience release for a long time and we could not be more excited to share it with you all. We start out the episode with some Blubrry news this time, and get to industry news after as well as a best practice — research your titles — and a pro tip about co-hosts.
A big thanks to Yndia Lorick-Wilmot for joining us as podcaster of the month and stick around for her interview with Todd. Thanks for listening and let us know what you think about the stats! You might just win a year's worth of hosting for doing so.
Thanks for joining us on this episode of Podcast Insider. Looking to be a guest on the show? Let us know.
NewsBest Practice
Research your 'perfect' podcast title before you move forward. It could be the most clever and apt name for your podcast, but you never know who might have already thought of it, owns the domain, or how confusing it may be to a search engine.
Blubrry NewsBlubrry Pro Tip
Looking for a co-host?
Interview
Podcaster of the Month: Dr. Yndia Lorick-Wilmot, PhD
Education category – Talking Journeys of Belonging 2 Blackness
Question of the Week
Question: What is the correct bitrate vs. file size for podcasting mp3's?
Answer: That is up to you, but the standard is 64kbps in mono or 128kbps in stereo. 64kbps will give you 1/2mb per minute of audio and you can double that for 128kbps.
Got a question you'd like us to answer on the show? Drop an email to mike@blubrry.com (audio, text, video) and we may use it.
The best place for support with any Blubrry products/services is our ticket system (https://blubrry.com/support/). Tickets give the whole team access rather than direct emails or calls.
______________
Coming to you this week from The New Media studios in Coldwater, Michigan & Mike Dell's World Studio in Traverse City, Michigan. Produced by the Blubrry Pro-Production team.
Schedule a one-on-one with Todd (hosting customers only). Email todd@blubrry.com


Schedule a tech checkup with Mike (hosting customers only). Email mike@blubrry.com


Send us your podcast sticker and a self-addressed stamped envelope (SASE) and we will send you a Blubrry care package.

Our mailing address is:

Blubrry – MacKenzie

150 E. Campus View Blvd. #180

Columbus, Ohio 43235
---
Download Episode