Podcast: Play in new window | Download (Duration: 23:01 — 31.6MB) | Embed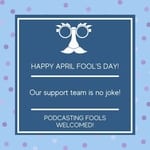 Happy April Fools Day! We promise, we do enjoy helping our customers. One thing we don't joke about at Blubrry Podcasting is copyrighted music or material. It'll get podcasters into hot water fast (seriously, don't be a fool) and we highly recommend getting your intros, outros and any music played in your episodes, from a reputable source where you are most likely going to pay for it. It doesn't have to be expensive, it just has to be legal.
Thanks for joining us on this episode of Podcast Insider. Looking to be a guest on the show? Let us know.
Recorded live from two well-separated and socially distanced podcast studios in northern and southern Michigan; here's Podcast Insider.
News:
Best Practice:
Podcast Intros, Outros and Music 
Blubrry News:
Tip of the Week:
Do you sometimes wonder where a podcast is hosted or what RSS feed a podcast is using? Do you don't know what yours is (you should know your own RSS feed). You can find an RSS feed of any show using CastFeedValidator.com. Just click on "Find Your Feed" in the upper right. Enter the title of the show as  listed in Apple Podcasts and the tool will find the RSS feed.  Just click on "View RSS" and it will take you to the RSS address of the show and you can see what the address is.
If you have a question you would like us to answer on the show, drop an email to mike@blubrry.com  (Audio or text or even video if you want) and we may use it on the show.
The best place for support with any Blubrry products/services is our ticket system (https://blubrry.com/support/)  Sending a ticket gives the whole team access to the question rather than direct emails or direct phone calls. 
______________
Be sure to subscribe to the companion show to this one, Podcast Help Desk where Mike goes a little deeper into the geeky and techy side of podcasting. 
This week Mike talks with Andy Lehman (maker of the Podcast Namespace WordPress Plugin) about the Podcasting 2.0 and the "podcast" namespace.  
https://www.podcasthelpdesk.com
______________
Promo code INSIDER for a free month at Blubrry.com
Coming at you this week from Blubrry Studios in northern and southern Michigan. Produced by the Blubrry Pro-Production team.
Our mailing address is:
Blubrry – MacKenzie
150 E. Campus View Blvd. #180
Columbus, Ohio 43235