Pilgrim's Progress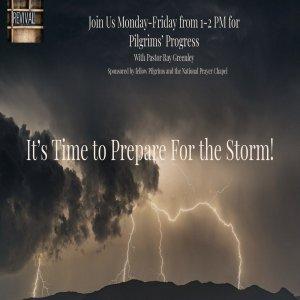 Latest Episodes

December 02, 2021
Are you willing to get ready for the coming King (Jesus)?

December 01, 2021
When you die are you going to a better place? Are you sure???

November 30, 2021
Are you willing to do whatever it takes to bestir God???

November 26, 2021
A powerful message and cautionary tale for all of us...

November 25, 2021
Are you going your own way or are you going the way of the Lord?

November 24, 2021
Pastor Ray lays out the way of epignosis (experiential knowledge (of God and Christ)) and contrasts that to gnosis (secret self knowledge). Listen closely to the message to understand the distinction

November 23, 2021
The account of Rees Howell's final transaction is recounted today...

November 22, 2021
Have you willingly entered into that final transaction with God???