World News Brief Podcast by CGM Radio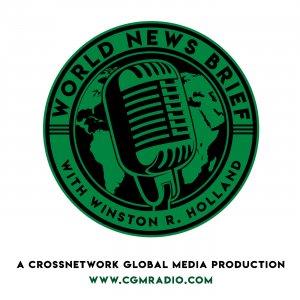 Latest Episodes

September 25, 2020
Thousands are expected for Franklin Graham's first-ever prayer march on Washington, the U.S. imposes new Iran sanctions over human rights violations, and President Trump speaks reality to the UN General Assembly. Welcome to this Friday,

September 22, 2020
Welcome to the very first Cross Talk, where your Cross Global Media Radio hosts unite to discuss the hottest news of the day. On this inaugural episode, Bob Siegel of The Bob Siegel Show, JP from JP's Political Matrix,

September 18, 2020
Trump Declares 'Historic Day for Peace' as Middle East Deals Are Signed, the US is set for a major showdown with the UN over snapback sanctions on Iran, poisoned Russian opposition leader Alexei Navalny posts photo from hospital bed,

September 10, 2020
President Donald Trump is nominated for the Nobel Peace Prize by a Norwegian official, a global athlete's union wants Iran kicked out of global sports, US troops are being cut in Iraq, Sudan gets an incredible September Surprise, and much more.

September 03, 2020
Saudi Arabia Opens up its airspace for Israeli airliners to fly freely for the first time in its nations history, Hurricane Nana Barrels Towards Belize, the Justice Department is conducting a 'Very Big' voter fraud investigation, world news headlines,

September 02, 2020
The UN Security Council President stands by the dismissal of "Snapback" US sanctions on Iran; Pompeo promises a veto. Pompeo is also optimistic that the controversial pro CCP innocuously named Confucius Institutes plaguing college campuses and grade sc...

September 01, 2020
India Accuses China's military of provocative movements near a disputed border, Israel and the UAE start talks to open embassies during the historic first visit, the US strikes back at the security council, Trump heads to Kenosha,

August 31, 2020
A quiet CDC weekend update shows a shockingly small number of people died only from Covid without any other underlying conditions, Taiwan is not taking any chances against the Red threat from China with a massive military bolster,

August 27, 2020
Hurricane Laura Slams the Louisiana Coast With Fierce Wind, Surging Sea, leaving hundreds of thousands without power and one person confirmed dead, Greece Asserts it's Maritime claim against Turkey by expanding into the Ionian Sea,

August 26, 2020
The UN will not act on US efforts to 'Snapback' Iran Sanctions, citing opposition from UN Security Council despots and cowards, an American delegation led by Jared Kushner is set to make an historic first flight from Israel to the UAE,