Middle Country Public Library Podcast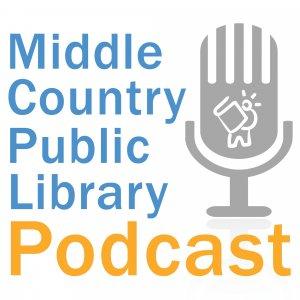 Latest Episodes

August 01, 2019
In this special episode, we are joined by Brookhaven Town Councilman Kevin LaValle, Suffolk County Police Officer Will Zieman, and MCPL Outreach Coordinator Deborah Hempe to give us a preview of this year's National Night Out, an annual community-buildin.

July 25, 2019
Nicole tells a story about storytelling. Sara has a preview of August's DVD releases. PLUS Michelle and Kristen are here to talk about this weekend's Island Idol contest at Centereach.

July 18, 2019
We have a very special episode this week: we chat with Jungle Bob of Jungle Bob's Reptile World about how he got started, what's the best reptile pet for first-timers, what his retail location offers, and more! Plus we ask him what we could expect at ton.

July 12, 2019
Nicole discusses the Sharing Our Stories program; Sara has a great series of books she'd like to share with all you super music fans out there; plus Sal lets us in on his YouTube viewing habits.

July 03, 2019
Celebrate your 4th with us: Sal brings back his trivia game for Sara and Nicole as they answer 4th of July themed questions based on data from our fabulous database from the Miller Business Center, Statista! Plus Gilda and Jim are here to announce this y.

June 27, 2019
Summer is in full swing and Sara has some new DVDs to share. Nicole chats about Twitter and how you can vote for your favorite librarian. And Stephanie is here to talk about the new program, Books & Brews.

June 20, 2019
We are kicking off the 2019 Summer Reading Clubs with this special episode: Read books, earn badges, and learn how you can get a chance to win big prizes. This year's theme is "A Universe of Stories."

June 13, 2019
This week, Sara has books that are worth reading if you are going hiking in the wilderness this summer; Nicole has great resources on finding your next book; and Kristen is here to give us an overview of Family Place Libraries.

June 06, 2019
In this special episode, we discuss the great programs coming to MCPL for Pride Month 2019.

May 30, 2019
Sara and Nicole have some great ideas for your reading list this summer; plus Stephanie is here to give us an update on our 3D printing services.