Middle Country Public Library Podcast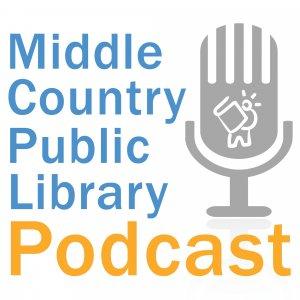 Latest Episodes

July 09, 2020
His Girl Friday is our next Movie Chat! Starring Cary Grant and Rosalind Russell, this 1940 film is on many "Best of" and "Top 50" movie lists. It's available to view on Hoopla Digital for free with your library card. Does the podcast team like it? Liste.

July 02, 2020
This week's episode is part 2 of our chat about the 2020 Summer Reading Club! This week we have Jessica, Liz, Kaity and Nicole here to fill us in on what we are doing for families, kids, and teens.

June 25, 2020
This is part one of our two part series on the 2020 Summer Reading Club. Alex and Amber are here from the Adult Department to tell us how patrons can participate in this year's very unique Summer Reading Club.

June 18, 2020
Nicole has a great list of resources for you to check out during Pride Month; Sara has her Summer Reading picks to share. Sara's Summer Reading Picks with links to our catalog: Aurora Rising by Amie Kaufman https://mcpac.mcpl.lib.ny.us/record=b1931443 Th.

June 11, 2020
It's our pleasure to have the Director of the library, Sophia Serlis-McPhillips, on the show to chat about our new Curbside Library Service which will start next week, as well as to provide some insight on what we can expect moving forward towards eventu.

June 04, 2020
We have a jam-packed show for you this week! Nicole has some hobbies you can consider doing this summer around your home if you are still not ready to venture out into the world; Sara has a fantastic list of movie picks that are available to you with you.

May 28, 2020
On this special episode, we focus on a couple of adult services and programming available while the library is temporarily closed.  Marlene is here to let you know that if you'd like her help in researching your family tree and your family's history, MCP.

May 21, 2020
We are happy to have Amanda and Kristin join us to chat about the 10th anniversary of our fabulous outdoor learning classroom, the Nature Explorium, which has recently been renovated. We also discuss what's coming up for our Spring Jubilee, taking place .

May 14, 2020
How about some tunes to get you through your days at home? And how about you use your library card to stream albums for free? Here are some of our favorite albums available for download on Hoopla Digital! Sara's Picks Hey Ladies Beastie Boys From Paul's .

May 07, 2020
Nicole has picked 2014's Ex Machina for this week's Movie Chat. You can stream this movie for FREE using your MCPL library card from either Hoopla Digital or Kanopy. See the links below for more information. SPOILERS AHEAD! Ex Machina stars Domhnall Glee.