Middle Country Public Library Podcast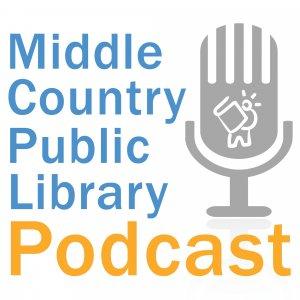 Latest Episodes

September 19, 2019
Nicole shares some home buying angst and what resources we have at the library that can help; Sara has some spooky DVD releases coming up next month; in our Focus segment, Marlene chats about a new genealogy resource available to our patrons, Find My Pas.

September 12, 2019
In this special episode, we chat with Elizabeth about what this year's EXPO is all about, plus Sara interviews some of our fabulous exhibitors. The Women's EXPO takes place on Thursday, October 3rd from 11am to 6pm at our Centereach branch.

September 05, 2019
A look ahead at our Fall 2019 programming and events at MCPL; plus for our Focus segment, as we enter the season of pumpkin-spiced everything, we look back fondly on the summer.

August 29, 2019
The kids take over the studio! Check out this episode featuring some of our littlest patrons.

August 22, 2019
Nicole has some news about the new controversial app coming from Weight Watchers; Sara has some great books you can use to look up pricing on all those antiques you have in your basement; Tracy LaStella is here to chat about the Friends of MCPL and their.

August 15, 2019
For our next Movie Chat, Sal picks a film that is rated #4 on AFI's 100 Years 100 Movies list, Raging Bull starring Robert De Niro and Joe Pesci. How does the team rate this one? Listen and find out.

August 08, 2019
Nicole's all about Fan Fiction this week; Sara has a great collection of food-related periodicals for you to check out and make you hungry; and speaking of hungry: Sal's in love with his new commercial-grade griddle.

August 01, 2019
In this special episode, we are joined by Brookhaven Town Councilman Kevin LaValle, Suffolk County Police Officer Will Zieman, and MCPL Outreach Coordinator Deborah Hempe to give us a preview of this year's National Night Out, an annual community-buildin.

July 25, 2019
Nicole tells a story about storytelling. Sara has a preview of August's DVD releases. PLUS Michelle and Kristen are here to talk about this weekend's Island Idol contest at Centereach.

July 18, 2019
We have a very special episode this week: we chat with Jungle Bob of Jungle Bob's Reptile World about how he got started, what's the best reptile pet for first-timers, what his retail location offers, and more! Plus we ask him what we could expect at ton.