Literary Treks: A Star Trek Books and Comics Podcast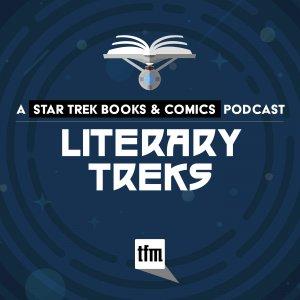 Latest Episodes

July 07, 2019
The Children of Kings. We talk about the time period in Star Trek history, some confusion about which timeline the book takes place in, Dr. Philip Boyce, Orion history, Number One, other characters in the novel, and wrap up with our final thoughts and rat

June 30, 2019
Orion's Hounds. We talk about the beginning of Titan's true mission, the mysterious "star-jellies," Riker's decision to get involved, the other cozmozoans that make up the Gum Nebula ecosystem, the difficulty in changing one's way of life and adapting to

June 23, 2019
Resistance. We discuss the return of the Borg, the Enterprise's new Vulcan counselor, drama among the secondary characters, Picard's relationship with Locutus of Borg, the nature of the Borg Queen, and wrap up with our final thoughts and ratings.

June 09, 2019
The Captain's Oath. We discuss the different time periods covered in the novel, Kirk's early years as commander of the U.S.S. Sacagawea, the fascinating cast of original characters, the mysterious threat posed by the Agni, Kirk's first mission as commande

June 02, 2019
The Gold Key Archives, Vol. 5: Part 2. We finish our look back at Star Trek: The Gold Key Archives, Volume 5 with the final three stories in the collection: issue 28, "The Mimicking Menace"; issue 30, "Death of a Star"; and issue 31, "The Final Truth."

May 26, 2019
The Gold Key Archives, Volume 5: Part 1. Includes Gold Key issues 25, 26, and 27: "Dwarf Planet," "The Perfect Dream," and "Ice Journey." Make sure to pack your heat-stabilizer tablets, it's gonna be a crazy journey!

May 12, 2019
Michael A. Martin: The Red King. We talk about launching the Titan series, the origin of the Neyel, Tuvok and Akaar's troubled past, Donatra and the Romulans, religious belief vs. scientific fact, where Titan goes from here, and wrap up with what Michael

May 05, 2019
Burning Dreams. We talk about Christopher Pike's early years on the colony world Elysium, his relationships with his mother and the father figures in his life, the unique role that fire plays in Pike's history, his embodiment of the ideals of Starfleet an

April 28, 2019
Dayton Ward: Available Light. We talk about the fallout from the end of Section 31, Picard's actions in the ousting of disgraced Federation President Min Zife, a mysterious apparent derelict hiding a technological marvel, the Jirol Salvage Guild, the impo

April 14, 2019
Articles of the Federation. We talk about The West Wing of the 24th century, linking this novel to the other novels in the literary universe, the huge cast of characters, various issues that the Bacco administration has to deal with, answer some questions