Literary Treks: A Star Trek Books and Comics Podcast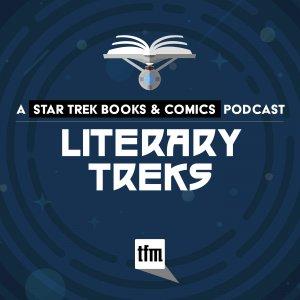 Latest Episodes

October 06, 2019
Greater Than the Sum. We talk about Lieutenant T'Ryssa Chen, Christopher Bennett's amazing ability to "fix" glitches in Star Trek continuity, a star cluster filled with strange new worlds, an old friend named Hugh, a plan to destroy the Borg once and for

September 29, 2019
Vendetta. We talk about Picard's mysterious connection to a woman with a vendetta, the horrors of a Borg attack, Geordi's quixotic role in the novel, new types of Borg, Picard's rival, the Doomsday Machine, the theme of Vendetta, how this book compares to

September 21, 2019
Aaron Harvey: The Official Guide to the Animated Series. We discuss Aaron's passion for the animated adventures of Star Trek, how he and co-author Rich Schepis got the job of creating this guide, the process of putting the book together, the layout of the

September 15, 2019
Before Dishonor. We talk about the newly-evolved Borg, Seven of Nine's role in the story, Ambassador Spock, unexpected actions taken by Picard's crew, the Doomsday Machine, Admiral Janeway's fate, and wrap up with our final thoughts and ratings.

September 01, 2019
Early Voyages #1-4. We talk about the crew's introduction in "Flesh of My Flesh," a face-off with the Klingons in "The Fires of Pharos," the crisis on Rigel VII in "Our Dearest Blood," and revisit Talos IV from a new perspective in "Nor Iron Bars a Cage."

August 25, 2019
Greg Cox: The Antares Maelstrom. We talk about the pergium discovery that starts things off, an old-fashioned western set in space, Sulu's mystery woman and the role they play, a side quest for Spock and Chekov, a major crisis the colony faces, the myster

August 18, 2019
John Jackson Miller: The Enterprise War. We discuss how the novel ties into seasons one and two of Discovery, the Lurians and the atypical Baladon, Enterprise's revolving door of engineers, the mysterious Boundless, Lt. Evan Connolly, this novel's links t

August 04, 2019
Sword of Damocles. We discuss the non-linear nature of the novel, the planet Orisha and its inhabitants, the risky mission to save the Titan, the fate of Jaza Najem, the unorthodox solution that saves the ship, the design of the U.S.S. Titan by Sean Toura

July 28, 2019
David R. George III & Dayton Ward: How to Write Star Trek Novels. We talk about how they got their start in writing, the process of how a Trek novel is published, how writing tie-in fiction differs from writing original fiction, how they approach writing

July 21, 2019
Q & A. We discuss the new crewmembers of the Enterprise, the strange planet at the heart of the novel, the ultimate Q story, the link to "Parallels," Worf's new outlook on life, a particular cover quandary, and wrap up with our final thoughts and ratings.