Less Is Morgue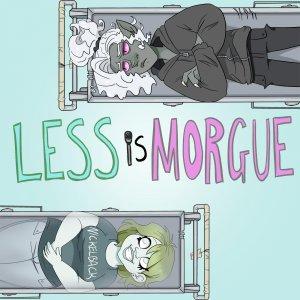 Episode 206: Whose Whine Is It Anyway?
November 26, 2021
Riley and Ev get a book on improv comedy, and their quest to become Comedy Gods soon leads them to madness.
TW: References to parental death in the ad. Skip from 9:02 to 10:58 in order to avoid this.
Twitter:
http://twitter.com/LessIsMorgue
Instagram:
https://instagram.com/lessismorgue/
Tumblr:
http://lessismorguepod.tumblr.com
Facebook:
https://m.facebook.com/lessismorgue/
Support us on Patreon and get some ghoulish Less Is Morgue goodies!
https://www.patreon.com/lessismorgue
Featuring:
Alexis Bristowe as Riley and Chimera Lafferson
Meg Molloy Tuten as Evelyn
Addison Peacock as Banshee Lafferson
Scott Thomas as Sheldon
Matt Bradford as Teddy
***
Less Is Morgue is a Praeps Collective production 
Today's episode was written by Henry Galley and Gus Zagarella.
Produced by Scott Thomas.
Executive Producer Uri Sacharow.
---
Download Episode