Lawns Across America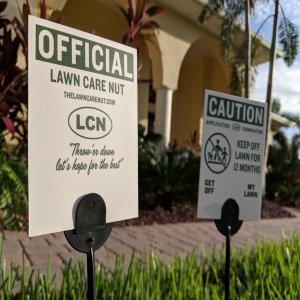 Latest Episodes

September 26, 2019
First 17 minutes warm season lawn updates on my Zoysia and St Aug based on weather patterns… after that all about aeration and overseeding after care.

September 04, 2019
Today we talk mostly about mowing leading up to aeration and overseeding as well as when to mow after seed has grown. We also revisit the idea of leveling the lawn and can you still seed at this time? Plus, lawn preaching and relationship building.

August 22, 2019
This week I talk all about leveling the lawn and what top dressing means to me. lAA 25, short and sweet.

August 08, 2019
When to plant grass seed and optimum seeding windows and times to watch for. It's almost that time, let's preach some lawns!

July 25, 2019
LAA23 we talk about sod and strategies for overcoming poa trivialis and poa annua this fall. TheLawnCareNut.com  

July 18, 2019
Today we mostly talk about crabgrass. How you got it in your lawn and why, and now how to control it based on grass type.

July 04, 2019
Today we talk about getting rid of quackgrass in the lawn, a clumping tall fescue problem that turns in to a potential lawn burn down, and we revisit the "seed first strategy" and talk about grass crowns and stiff stalks.

June 28, 2019
Most about lawn fungus and disease today, Red Thread, Dollar Spot, Leaf Spot and Melting Out, Gray Leaf Spot and the dreaded Brown Patch. Plus, a Marine buys a house on a slope and we followup with Lenny from Peoria,

June 13, 2019
Lawn tips for summer including strategies to keep a nice lawn while the kids play baseball on it, splotchy Milorganite app results and the truth about nitrogen fixing plants and your soil and lawn.

June 06, 2019
Today we start looking towards summer, getting our irrigation in line with some strategies, as well as looking at fertilizer types and amounts for summer. End by looking at pesticide signal words and what they mean and why.