Lawns Across America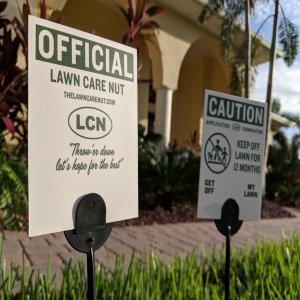 Latest Episodes

September 11, 2020
Today we talk alot about thatch in all kinds of lawns, a well as fall brown spots, correcting poor clay midwest soil and much more!

August 20, 2020
In this episode of Lawns Across America Podcast: Did I say I'd never sell grass seed? Why Is the Seed Rate so low on Kentucky Bluegrass? What if I don't want to seed? Tall Fescue switching to Zoysia Business advice for a young lawn care entrepenuer Usi...

July 26, 2020
My kiddie pool killed the lawn, sudden dead spots in summer, how to manage "rinsate" as a DIYer and some creeping bentgrass tips.

July 18, 2020
Today I take calls from the (833) LCN-TIPS line and talk about everything from dog urine burn in lawns, to new homeowner first steps.

July 11, 2020
Of course I'm going to talk about the heat and how it affects both cool and warm season lawns, but we also talk about watering in treatments, new sod summer care, neighbors encroaching weeds and a whole lot more lawn tips!

July 02, 2020
Lots of heat stress hitting the lawns all over America right now. Brown spots everywhere. In this podcast we start with cool season lawns and end with warm season. Glad to be back preaching lawn care again for the 2020 season!

January 05, 2020
Grass types and growth habits of each and how you can use this knowledge to better your lawn strategy and approach for 2020.

September 26, 2019
First 17 minutes warm season lawn updates on my Zoysia and St Aug based on weather patterns… after that all about aeration and overseeding after care.

September 04, 2019
Today we talk mostly about mowing leading up to aeration and overseeding as well as when to mow after seed has grown. We also revisit the idea of leveling the lawn and can you still seed at this time? Plus, lawn preaching and relationship building.

August 22, 2019
This week I talk all about leveling the lawn and what top dressing means to me. lAA 25, short and sweet.