Is This Thing On? Nick Tann's Independent Music Podcast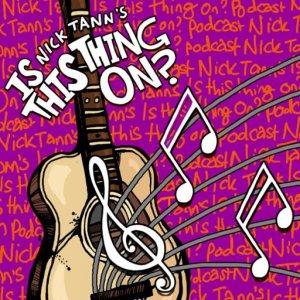 Latest Episodes

January 12, 2020
Hi all, yes I am back again with a show packed of wonderful music from all over the planet. Make sure you listen all the way to the end as you may miss a gem! This weeks playlist includes Charles Peoples 111 - Creep, Derange - Zero,

December 15, 2019
Well, it's pretty special just look at the playlist for this week The Mayans – Cow Catcher,  Steve Hewitt – Without You, Dom Down Jones – Born Rich ft KT Finess, The Virginmarys – S.O.S.4.U.N.I., Rose Cousins – The Benefits of Being Alone,

November 28, 2019
Back with a show to rock your very socks off!  - Great tunes and me babbling on about my escapades with "Grand Theft Auto" (NickTannrocks) - Outstanding tunes this week, just look at this track list! Yard Arms - Comfortable,

October 27, 2019
Marrius - Back to Strangers, Foxer - Don't Leave a Scar, Kenzi - At The Root, Oh Moses - The Company You Keep, Dres_ - Wake Up, The Bugles - Give UpSara Saville - Love Hate, Zilverback - Breathtaking, Liz Longley - Unraveling 

October 10, 2019
In these testing times, I would urge all supporters to subscribe to the podcast. I will be getting even busier recording a new album and as much as I would love to push out a new episode every week, I am trying my best to get one out once a month.

September 02, 2019
Yes I know it's been a while and if you listen to this amazing episode you will hear  why. Nevertheless some outstanding tracks this week including  Jim Chorley - There's nothing like your love, Lyra - S.T.A.Y., Dom Down Jones - Hold ME Down,

August 01, 2019
This week is a special episode where I get to interview the marvellous Dan O'Farrell, he of Accrington Stanley and John Peel's playlist fame as well as a legend in his own lunchbox with his solo project AND with the amazing Dan O'Farrell and the Differ...

July 24, 2019
What a show and made better by having some top tunes from Spoiled Horse Racer (Eva Avenue) - What a Stunner when he Roll up, Heroine - Afraid, Rat Faced Lewey - Comfortable, Desensitised - Emily, Sally Crosby - Good Enough,

June 28, 2019
An amazing array of fresh new music from all over the planet this week including news singles from This Blue Falcon - Prohibition Park and the stunningly good Anatoli Tsampa - Only a Stranger. Gumshoe - When They Start to Ignite,

June 07, 2019
Lovely music this week, lets hope this weeks show is as popular as last week with the best listening figures this year. Well done you lot! - Kicking off with one of my tunes this week, recorded live at the Railway in Winchester then followed Tom Fulle...