Is This Thing On? Nick Tann's Independent Music Podcast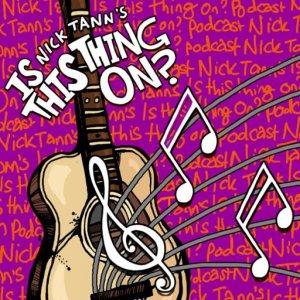 Latest Episodes

April 18, 2019
Aperil, geddit? Never mind some of the best music you have never heard this week kicking off with The Family Dickens - Napoleon, Rockets Kings - Atlantic Dreams, Happy Daggers - Hold It Down, Nick Tann - Never Did Me Wrong which may or may not sound li...

April 05, 2019
Hi music lovers, have I got a show for you! We kick off with Luke Seymour - Hand me Downs, Your Life Or Mine - Better End The Heartbreak, Reason Define - Pointing Fingers, Brocarde - Last supper, Chaz - Poverty Porn,

March 24, 2019
It's Sophocles, obviously...If you're at a loss as how to listen to this show thats available on ITunes and Spotify, let me knowTold you I would be back soon and what a show with another great line up of great musicians including Dandelion Charm - Step...

March 17, 2019
Hi all, some great music this week make sure you subscribe so you never miss out on one of the longest running independent music podcasts on the planet. Running since 20o8 I bring you the best in music you have never heard.  -

February 17, 2019
Great tracks this week from Dayana - Astray, Waist Deep - Steel Balloon, We Three Kings - Give It To Me Go!, The Virgin Mary's - S.O.S.4.U.I.,  Tobias in Flight - Killer Voices, Nick Tann - Love Lies LIVE, Naz and Ella - The Gun

January 27, 2019
Another top show *coughs* with some amazing tunes submitted by the bands themselves and in some cases, by people paid to send tunes to podcast. Magic music from Halogram – Symphony of Regret, Lola Black – Hot Enough,

January 10, 2019
Frankly, it's a bloody shambles of a show but on the good side I did do some research and the music is outstanding with tracks from Dallas Dwight – L.A, Maybe – Peace of Mind, Roskow ft Rob Jones – Van Gogh, Curious Hour – Explore,

December 29, 2018
Yes, the last show of 2018 but I promise promise promise I will be back with a new episode as soon as is humanly possible. Great tunes new and old with a surprise visit all the way from a 2011 Watch With Mothers record review.

December 12, 2018
An interesting show this week (aren't they all?) where I ask for a little feedback on what you would like to see in the show from 2019. Playlist contains these fantastic tracks Oh Maddi - Women and Men, Miles Recommends - Just Wanted You,

November 26, 2018
      What a show we have this week and I haven't even recorded it yet! I can tell you that as well as tunes from Tankus The Henge – things were better before, Lola Black – Nothings Gonna Be Alright, AJR – Ballet to the Masses, Nehiyawak – …