Is This Thing On? Nick Tann's Independent Music Podcast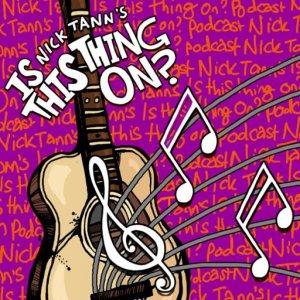 Latest Episodes

December 20, 2020
Hello, my name is Nick Tann and welcome to my Is This Thing On Podcast  Since 2008 artists from all over the planet have been sending me their tracks to play on the show. I sort the great from the not so great and compile them in a weekly podcast for y...

November 01, 2020
Back into lockdown, lets take some great tunes with us. This episode includes Chuck Charles – My TV Friends (San Diego, USA), Corpulent Provocateur – Test (Czech), Alien Feelings – Scream (Wrexham), Lindzey Autumn – Bad Influence (Boise, Idaho USA),

October 05, 2020
Back in the room with some amazing music this week, including Halan – I don't know you, Half Decent – Morning After, Piqued Jacks – Safety Distance, Gambling Hearts – These Days, Isla – Don't Love Me, Kmodo – The Things You Know,

July 27, 2020
Lucky to have Flis Pitman join Chris Smith and myself for another panel show with music from The Final Clause of Tacitus - War Elephant, Kmodo - When You're Ready, Tre Fo Boyz - Boyz in the Hood, Michael James - Solicitus, Atari Pilot - Wrong Captain,

July 06, 2020
Yes, I've done it again! It could become a habit this... Another show with a panel of well informed and opinionated examples of human beings. this week they are in the fine form of Katy Lou, Anna Neal and Paula Frost.

June 29, 2020
So dear listener, a treat for you this time, a feast of bloody manhood in the pleasing shapes of Matt Kassell (April Maybe May & Emker Cel), Chris Smith (local promoter) and Lewis Jones (another local promoter) giving their opinions on the fine tracks ...

May 27, 2020
Combining 2 podcasts into 1 this month to bring you 90 minutes of quality new tunes you have never heard. - Jaw dropping songs from some genuinely talented artists. - This shows playlist includes Katherine Aly - Misty Me, Joe Bygraves - Wild Nights,

April 30, 2020
  Many questions asked in this weeks episode as well as a big one answered together with some amazing music from Vian Isaac – London Air Raids, The Midnight Wrens – Trouble in Suburbia, Shanghai Treason – Hangman, Recluse – Stomah, Olly E – I Refuse,

April 22, 2020
With artists and pluggers working overtime trying to get airplay (and who can blame them as there's fuck all else to do) I needed to push out another episode lest my folder split.... So here you are, spoilt for choice so have them all! -

April 08, 2020
7 Spies - Chameleon, The Zealots - Beautiful, The Screens - The Boy Who Waved, The Hollow Doors - What's The Point?, Emily Wolfe - Lion Heart, People - One Giant Loop For Mankind, Mummy Short Arms, Paul McClure - Unremarkable ME, Jon Gomm - Gloria